In New Hampshire Poll, Signs That Independents Are Uneasy About Jeb Bush
The Bloomberg Politics/Saint Anselm survey found that independent voters critical to Jeb Bush's success in the Granite State are not flocking to him yet.
by and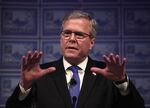 Independent voters in New Hampshire have reservations about Jeb Bush as a Republican presidential candidate, a worrisome sign for the former Florida governor that could jeopardize his chances in the state's primary if the Democratic nomination stays uncompetitive.
A Bloomberg Politics/Saint Anselm New Hampshire poll shows that while Bush has taken a slight lead among likely Republican primary voters, he's only the third choice among independents who say they plan to vote in that contest. Kentucky Senator Rand Paul at 15 percent and New Jersey Governor Chris Christie at 13 percent both performed better than Bush's 11 percent.

By contrast, independent voters likely to participate in the Democratic primary backed former Secretary of State Hillary Clinton by similar margins as self-identified Democrats in the poll. The former first lady and senator, who won the state's primary in 2008, had support from 58 percent of Democrats and 56 percent of independents.
Independent voters are critically important in New Hampshire because the state allows non-affiliated voters to cast ballots in either party's primary. In years when just one party has a competitive race, independents move to where the action is, making up a higher proportion of that party's turnout than in other years. They made up nearly half of all GOP voters in the state's 2012 primary, when Republicans were selecting a challenger to President Barack Obama.

That year, Mitt Romney easily won the state's primary by running up the score with Republican voters and staying competitive with independent voters, who backed then-Representative Ron Paul, Rand's father, 31 percent to 30 percent. Independents drove John McCain's Republican primary victories in 2000 (against Bush's brother, George W. Bush) and again in 2008. In 2000, McCain won independents by a two-to-one margin over the eventual president.
Clinton's commanding presence if she decides to run for president has the potential to crowd out serious Democratic challengers, meaning independents might again flock to the far more open Republican contest. In the poll, conducted by Washington-based Purple Insights from Jan. 31-Feb. 5, independents made up 32 percent of Republican primary voters and 31 percent of voters in the Democratic primary. "We will continue to watch that proportion over the course of the primary cycle," said Purple Insights' Doug Usher.
Huiping Liu, a 41-year-old independent who said he plans to vote in the Republican primary, backs Paul. "He's more in touch with society than most politicians," Liu said. "His thinking is more moderate, in the middle."
Liu pointed to Paul's daylong filibuster to protest NSA spying as one reason the potential candidate won him over. Asked how Bush would perform with independent voters like himself, Liu didn't mince words: "Hopefully he doesn't do too good. The last thing we need is another Bush."
One reason Bush is struggling with independent-minded voters in the primary: They care about different issues than Republicans. Independents prioritize domestic issues such as health care and the economy, while Republicans said terrorism is the top priority. Republicans and independents said Bush would be better than Wisconsin Governor Scott Walker, Paul, or Christie when it comes to combating terrorism, while independents ranked Bush last among the four when it comes to creating jobs.
Independent voters were also more likely than Republicans to see Bush's support for Common Core and his position on immigration as deal-killers. While 15 percent of Republicans said Bush's backing of Common Core, a set of national education standards that have been condemned by some of the most conservative voters, were a deal-killer, 28 percent of independents said the same. His support for a path to citizenship for undocumented immigrants is a deal killer for 39 percent of Republicans, compared to 46 percent of independents.
The poll surveyed 400 likely Republican primary voters and 400 likely Democratic primary voters almost exactly a year out from the 2016 New Hampshire primary. It has a margin of error of plus or minus 4.9 percentage points. The margin of error for independents who plan to vote in the Republican primary is plus or minus 8.7 percent.
John Therrien, a 54-year-old sales manager from Epson, N.H., who identifies himself as an independent voter, said he's backing Christie but could be persuaded to support Bush. "Mitt Romney would have been my first choice, but now I have to go back to the drawing board," Therrien said about the 2012 nominee, who recently said he won't pursue a third presidential bid.
"I'd like to see a little more finesse from Christie, but he's a Jersey guy, so that might be hard for him," Therrien said. "Jeb Bush is OK, but I just don't know that much about him. I've heard he did a good job in Florida, but I don't know the details."
The poll was taken amid a measles outbreak in the U.S. and as Paul and Christie made waves with comments about vaccinations. Paul, an opthamologist, drew scrutiny when he said, "I've heard of many tragic cases of walking, talking, normal children who wound up with profound mental disorders after vaccines." He later emphasized that he's not anti-vaccine; he just sees it as a personal rights issue.
The senator's vaccine comments resonated with Liu, one of his independent supporters in New Hampshire. "I agree with freedom of choice," he said. "It should be up to the parents."
In the general election, New Hampshire's independents have the potential to move the needle. At this early stage, they are boosting Clinton's leads over her would-be rivals. Independents favor her over Bush 50 to 29 percent, over Walker 51 to 30 percent, and over Paul 48 to 35 percent.

Before it's here, it's on the Bloomberg Terminal.
LEARN MORE