Adelson Welcomes Romney, Now That He's Not Running for President
Romney has won the coveted VIP dinner slot at the billionaire casino owner's annual meeting.
by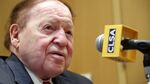 Now that Mitt Romney's no longer running for president, billionaire casino owner Sheldon Adelson is happy to have him over for dinner. The Republican Jewish Coalition, to which Adelson is a top donor, on Wednesday announced the lineup of speakers for its spring meeting; Romney has the coveted VIP dinner slot.
Also making the trip to the RJC meeting April 23-25 in Las Vegas are former Texas Governor Rick Perry and Senators Ted Cruz and Rob Portman. The Washington Times reported that former President George W. Bush and Indiana Governor Mike Pence will address the RJC, too. Most of the events are held at Adelson's Sands convention center-resort-casino complex on The Strip.
Perry, Cruz, and Pence are considering a run for the 2016 Republican nomination. They follow in the footsteps of other presidential hopefuls who entertained the RJC last year: former Florida Governor Jeb Bush, New Jersey Governor Chris Christie, Wisconsin Governor Scott Walker, and Ohio Governor John Kasich.
Although they addressed a crowd of several hundred prominent Jewish leaders and conservative donors, Kasich made plain who his real audience was: His remarks were laced with references to his friend "Sheldon," and he repeatedly gazed toward the casino magnate as if the two were alone in the room.
The announcement of Romney's inclusion in this year's meeting comes a few weeks after the two-time presidential candidate decided against running in 2016 after three weeks of testing the waters. Adelson, 81, has made it clear that he likes Romney, but doesn't consider him the best Republican to lead the country.  
In fact, his family invested some $15 million in Newt Gingrich's 2012 campaign to win the Republican presidential nomination. That cash, spent through a super-PAC, kept Gingrich afloat until about April, far longer than he would have survived without it. At the time, Adelson said he didn't consider Romney a "bold decision maker."  
"Every time I talk to him, he says, 'Well, let me think about it,'" Adelson said in a brief hallway interview with the Jewish Journal during the 2012 RJC meeting. "Everything I've said to Mitt—'Let me look into it.'" He then compared Romney to President Barack Obama, saying both men tried to avoid establishing a record for themselves.
Nevertheless, once Romney emerged victorious from the primary, Adelson and his money were ready to assist. All told, he was the election's biggest spender, putting up $93 million.
Before it's here, it's on the Bloomberg Terminal.
LEARN MORE