A Brief History of Staples vs. the Obama Agenda
The office supply store is a symbol of Mitt Romney economics.
by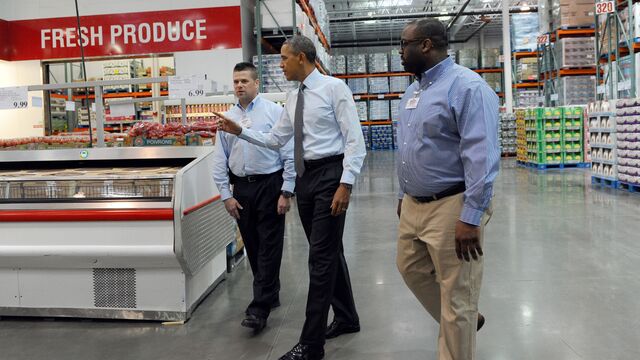 Tensions between Staples and President Obama reignited this week when the president slammed the store for reportedly limiting hours over the health care law. But this week's dust up was nothing compared to the 2012 election, when Staples was a symbol of the Mitt Romney economy: a Bain Capital success story, but also proof that trickle-down economics doesn't lead to decent pay for workers. 
BuzzFeed reported Monday that the company was threatening to write up or fire employees who worked over 25 hours a week, according to several employees. A Staples spokesman told BuzzFeed that the policy had been in place over a decade and was not tied to Obamacare's employer mandate, but last year the company sent out a memo on the "new policy" effective Jan. 4, 2014. Obamacare's employer mandate requires companies to pay for health care for employees who work at least 30 hours a week, or pay a fine.
During his interview with BuzzFeed editor-in-chief Ben Smith on Tuesday, Obama defended the Affordable Care Act and laid into companies like Staples.
I haven't looked at Staples stock lately or what the compensation of the CEO is, but I suspect that they could well afford to treat their workers favorably and give them some basic financial security […] when I hear large corporations that make billions of dollars in profits trying to blame our interest in providing health insurance as an excuse for cutting back workers' wages, shame on them. 
Staples's revenues have declined thanks in part to competition from online retailers, but the company earned $620 million in net profits in fiscal year ending Feb. 1, 2014. According to Reuters, Staples CEO Ronald Sargent made $10.8 million in 2013. The company also just decided to go on a shopping spree, buying competitor Office Depot for $6.3 billion. 
On Wednesday, Staples said it was "unfortunate" that the president would attack a job creating company. "Unfortunately, the president appears not to have all the facts," Staples spokesman Kirk Saville said in a statement to Reuters. "It's unfortunate that the president is attacking a company that provides more than 85,000 jobs and is a major tax payer." 
Staples isn't the first company to reportedly consider cutting hours to avoid providing health insurance, but very few companies are so closely tied to Romney. During the 2012 election Staples founder Tom Stemberg was a strong supporter of Romney, who previously sat on the company's board of directors and invested in the company when he was at Bain Capital. Stemberg talked Romney and his job creating skills up during a speech at the Republican National Convention and, in an op-ed, called Obamacare an example of "taking taxpayer dollars and spending them on sheer waste."
Of course, there were holes in the Staples success story. Specifically, as Bloomberg News noted at the time, Romney argued that Staples was an example of his ability to create jobs to lift people into the middle class, but most Staples jobs offer pay below a living wage.
The flip side of the Staples story would be the Costco story, and Obama's well documented praise of the company. A week after Sinegal's speech, Costco co-founder Jimmy Sinegal addressed the Democratic National Convention and touted his store's model—comparatively high wages, good benefits and health care. The company is also putting its money where its mouth is—last fall, Costco said it was "proud" of its ability to shoulder the costs of continuing health care benefits for part-time workers, according to The Huffington Post.
Before it's here, it's on the Bloomberg Terminal.
LEARN MORE