Mueller Was Among Hostages Sought in Failed Rescue, Obama Says
Angela Greiling Keane and Mike Dorning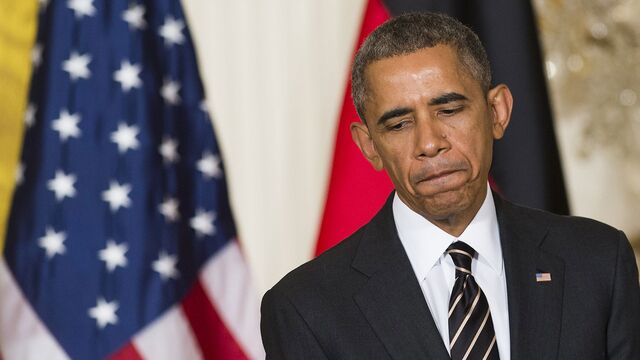 Kayla Jean Mueller, the U.S. aid worker whose death as a captive of Islamic State extremists was confirmed Tuesday, was among the hostages sought in a failed U.S. rescue attempt last year, President Barack Obama said.
Obama, in an interview with the website BuzzFeed today, confirmed for the first time publicly that Mueller was in the group that included journalist James Foley that U.S. special operations forces tried to rescue in northern Syria last August, only to discover they had been moved.
The raid was initially disclosed by the White House after Islamic State on Aug. 19 released a video of Foley's beheading.
"We devoted enormous resources and always devote enormous resources to freeing captives or hostages anywhere in the world," Obama said in the interview.
He said the U.S. will continue to refuse ransom demands from terrorists even though denying them is "as tough as anything I do."
Intelligence officials used photographs received by Mueller's family over the weekend to confirm the death of the 26-year-old Arizona woman, who had been held by Islamic State since August 2013. She was the last remaining known U.S. hostage held by the group, though at least one other American is being held in the region.
FBI Analysis
The photos were analyzed by the Federal Bureau of Investigation, which determined with a high-degree of confidence that they were of Mueller and confirmed her death, a person familiar with the investigation said. The material provided no evidence about how or when she died, according to the person and a defense official, both of whom requested anonymity to discuss intelligence matters.
Obama spoke twice with Mueller's family, most recently to express his condolences, White House press secretary Josh Earnest said.
"She was an outstanding young woman and had a great spirit," Obama said in the BuzzFeed interview. "I think that spirit will live on."
Mueller had volunteered at a women's shelter and a clinic for patients with HIV/AIDS at home in Arizona and worked with humanitarian groups in India, Israel and the Palestinian territories, according to the White House. She was kidnapped while working for a group supporting Syrian refugees in Turkey.
Mueller's Letter
In a letter she wrote in the spring of 2014 that was released by her family, Mueller wrote that she had been treated well and that she didn't want the negotiations for her release to be her family's burden, no matter how long it took.
"None of us could have known it would be this long but know I am also fighting from my side in the ways I am able + I have a lot of fight left inside of me. I am not breaking down + I will not give in no matter how long it takes," she wrote.
Islamic State claimed on Feb. 6 that Mueller was killed when the building where she was being held in Raqqa, Syria, a weapons storage facility, was bombed by aircraft from Jordan.
Earnest said there was "no evidence of civilians in the target area" at time of the strike. Echoing other officials, he said Islamic State is responsible for Mueller's death.
At least one more U.S. hostage still is being held in the region, Earnest said. While he declined to identify the hostage, the family of freelance journalist Austin Tice has said he's being held in Syria, though not by Islamic State.
Policy Review
Tice's parents have pushed for more family involvement in hostage recovery and for families to have a say in the review Obama ordered of U.S. hostage policy. That review will be finished later this spring, Earnest said.
Obama said the review won't include any change in the U.S. refusal to pay ransom.
"Once we start doing that, not only are we financing their slaughter of innocent people and strengthening their organization, we're making Americans even greater targets for future kidnappings," Obama said.
Islamic State, which has amassed territory it controls in Iraq and Syria, previously beheaded U.S., British and Japanese journalists and burned a Jordanian military pilot alive in a cage. Jordan, part of a U.S.-led coalition battling Islamic State, stepped up its bombing of the group's bases in retaliation for the brutal killing of its pilot.
The U.S. began a bombing campaign against Islamic State on Aug. 8. The U.S. and other members of the coalition have conducted 1,298 air strikes in Iraq and another 1,055 in Syria through Monday at an average cost of $8.4 million a day, according to Commander Bill Urban, the budget spokesman for the Pentagon.
Obama's advisers are negotiating with lawmakers on the terms of legislation formally authorizing the use of military force against Islamic State. Obama relied on the 2002 Iraq war authorization to begin the bombing campaign. The White House is proposing a new authorization for three years that is narrowly focused on the fight against Islamic State.
The House Foreign Affairs Committee plans a hearing on how the Obama administration is responding to Islamic State on Thursday.
Before it's here, it's on the Bloomberg Terminal.
LEARN MORE