Jeb Bush Pitches Himself as Emailer-in-Chief
In a new chapter from his e-book, Jeb Bush is a man of the digital people.
by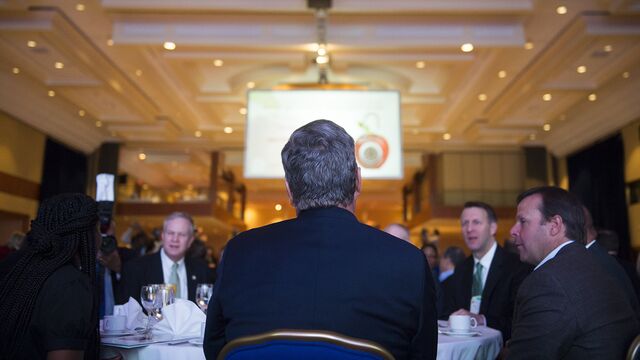 Jeb Bush's dream job was being governor of Florida. But just in case he was considering any other dream jobs, he's using the newly released book chapter where he shows himself as a savvy digital communicator. 
On Tuesday, Bush released the first chapter of a forthcoming e-book about his time as governor. It's largely a litany of emails from his first month as governor back in January 1999—some from inside his office and many from the public, to whom Bush had made his address (jeb@jeb.org) available.
"My staff estimated I spent 30 hours a week answering emails," Bush writes. "I answered emails very early in the morning, late at night, or on Saturday."
Not unlike President Obama, who reached out to Millennials by granting interviews to startups in recent weeks, Bush casts himself in the chapter as a technologically-oriented man for the times, complete with email-friendly abbreviations like "c.m." for Chief of Staff Sally Bradshaw who had been his campaign manager.
But this attempt at bolstering his image as a tech-savvy leader led to at least one tech-savvy site declaring that he was doing it wrong. The Daily Dot, which calls itself the "hometown newspaper of the World Wide Web," reported that at least one woman who had emailed Bush was upset that a separate dump of emails published her name and AOL address. The Daily Dot did not identify the woman, but it included a redacted screenshot that matched an email in the database on jebemails.com.
"I was digital before digital was cool, I guess," he told ABC News back in December.
Bush writes that the point of printing the emails is "to tell the story of a life of a governor," but it's clear that he's also seeking to portray himself as a modern politician ready to run the White House of the future.
"Every governor from every state regardless of political party will attest to the fact that there is no job like being a chief executive," he writes. "It's truly a 24-hour a day, round-the-clock commitment to the people of your state." Just lop off those last three words, and that line is ready for the national stage.
This commitment, Bush says, is why emailed so much: "In a way, reading and responding to emails allowed me to be in all 67 counties at once"—and allowed him to deliver on a promise to be the governor for the people, not his fellow politicians in "Mount Tallahassee."
But in the emails themselves, Bush crafts his image carefully, coming across as wonky on policy, conservative on state finances, compassionate on kids, and kind to constituents even when they email him with all-caps accusations. He's the force behind ideas—including one to modernize the state's website—and driven-yet-caring with staff.
The release, which included e-mails first published back in December, comes just a day after Bush's PAC faced a tech-related embarrassment when Buzzfeed reported that it had hired a chief technology officer who often referred to women as "sluts." The CTO, Ethan Czahor, has since apologized and deleted the tweets. The Bush camp has called them inappropriate but left him in his position.
Before it's here, it's on the Bloomberg Terminal.
LEARN MORE