Inside Obama's Web Campaign to Target Millennials
Senior adviser Dan Pfeiffer talks about the administration's evolving media strategy.
by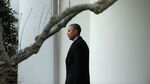 It's tempting to marginalize President Barack Obama's recent interview choices—from the YouTube star who eats cereal out of the bathtub to Web-native journalism outlets like Vox and BuzzFeed—as a media mid-life crisis for a second-termer feeling passed over by his teenage daughters and the American electorate.
But what's really going on isn't an act of desperation so much as a deliberate effort to understand and take advantage of the seismic changes happening in the media landscape, which, while they've produced increasingly polarities, have also provided new opportunities of the sort that have been conspicuously explored in the last few weeks. The choice of media itself, with its switched-on, millennial focus, could be a kind of legacy gambit.
"It's been a personal obsession of mine," said Dan Pfeiffer, 39, a senior adviser to Obama, who's leaving the White House in the next few weeks, having begun his tenure with the president in the run-up to the 2008 election. Pfeiffer has been a driving force behind the engagement with startups and social-media outlets favored by young voters and niche audiences.
"Barack Obama's been president at the time of probably the greatest disruption in how we consume and distribute information, essentially since the invention of the printing press," Pfeiffer said. "Over the course of the eight years I've been working for the president, we've been navigating this shift in media."
"This is typically understood by some in Washington as a way to go around" the mainstream media, Pfeiffer said. "We do not view it that way. We view it as an and/both strategy, not an either/or," he said, noting that the president still calls on major media outlets at formal news conferences and grants interviews to television and print outlets. "We have to go where people are congregating."
Pfeiffer mentioned three inflection points in the evolution of the administration's media strategy: the killing of Osama bin Laden in 2011; an explosion over the last couple of years in the use of social-media applications on smartphones; and Democrats' losses last November that liberated Obama to try new things without worrying about the effects on his party.
"A big signature moment that was a tipping point was the night the bin Laden raid happened," Pfeiffer said. Twitter and other social media served as a catalyst for the buzz that prompted 57 million people to tune in to watch the president's live announcement on short notice late on a Sunday night in May 2011. That moment made a huge impression on Pfeiffer in terms of glimpsing the potential for more engagement.
"The pace of change has picked up dramatically in the last two years," Pfeiffer said. After Obama won his own re-election in November 2012, he had to consider how all of his policy, political, and public outreach might affect the rest of his party, which was fighting a losing battle to hang onto to control of the Senate. After the midterms, Obama moved full steam ahead on everything from a climate deal with China to executive action on immigration and a relaxing of policy toward Cuba. This period also loosened up the White House to try bolder social-media approaches.
"Post-midterms, one of our conclusions was, we really needed to look very hard at how we can better use the new channels, how we could more aggressively use the new opportunities," Pfeiffer said. That played out in the White House's rollout of this year's State of the Union address, as well as interactive programming during the speech and post-speech interviews with YouTube celebrities.
The underpinning of the current effort is the technological sophistication and youth focus of Obama's 2008 campaign. The campaign signed on top talent from Facebook and other budding social-media outlets. It also looked to blend old and new techniques, like in an early crowdsourcing experiment in 2007 when the Obama campaign drew South Carolina Democratic primary voters to a football stadium to hear Oprah Winfrey speak, then gave each audience member a strip of paper with a telephone script and contacts for four residents who'd voted in the 2004 primary. The volunteers were to ask those voters if they'd back Obama, then turn that information in to the Obama campaign to build its database.
When Obama and his team got to the White House in 2009, they saw the media conventions as "archaic," Pfeiffer said, and looked for ways to modernize. Obama broke with tradition, doing late-night comedy and daytime talk shows. He embraced town hall-style meetings and virtual hangouts in partnership with online brands that were household names or were on their way to becoming one: Twitter, Google, Yahoo, Tumblr, Reddit, YouTube, LinkedIn, Instagram, Medium, and Vine.
In his habits, Pfeiffer is a typical creature of the current media environment. Before going to bed, he surveys what major news outlets are reporting. First thing in the morning, he'll check Twitter to see what he's missed overnight and "what the chatter is." Then he'll check major newspapers and websites on his iPad—including the New York Times, Wall Street Journal, USA Today, Bloomberg, Politico, and the Washington Post. Beyond that, "I try to diversify my media diet in the morning," he said. That's come to include regular scans of the Huffington Post, BuzzFeed, and Vox. BuzzFeed and the Huffington Post, he notes, lead shared content from news sources on Facebook.
If the White House has released content, Pfeiffer said, the digital staff will give a briefing on the online reaction. While Pfeiffer also looks at Facebook, "Twitter is what I usually have on my phone and in front of me." That way, "I know what reporters are talking about" and "how Republicans are responding to things."
Even for hidebound Washington, the audience numbers have been hard to ignore. The White House's stepped-up strategy comes as online engagement hits a milestone, said Art Prateepvanich, head of product marketing for publisher solutions for Quantcast, a San Francisco-based online advertising and audience measurement company.
"Last year, we as an industry saw that 'social' became a more important way of distributing and discovering content than 'search,'" he said. "So what's really key is this change in behavior in how people are getting to content. BuzzFeed, they're inherently designing their pages and content so they can be distributed on this mobile platform, and they've pioneered the science of how you get things shared. Now they're transitioning that to news as well."
A year ago, Quantcast, which tracks more than 100 million destinations including Google and Facebook, did a study to see what percentage of the 250 most popular sites it tracks were ad-supported digital native publishers that did not have a print presence. Between 2010 and 2013, that share had jumped from 21 percent to 38 percent, the company said.
"BuzzFeed and Vox would be some of the gold standard" in terms of products that people like to look at today, Prateepvanich said. "They have a different approach to the way they tell stories. They've ensured the way they present a story is easily consumed on a mobile device and sharable."
As the year progresses, Pfeiffer said, Obama will continue to test the boundaries of online engagement. He is looking at ways to use Instagram beyond basic photo sharing.
And the president sounds optimistic that, in the new media universe, he can find people who are receptive to his message. "My advice to a future president is increasingly try to bypass the traditional venues that create divisions and try to find new venues within this new media that are quirkier, less predictable," Obama told Vox in the interview published this week.
Before it's here, it's on the Bloomberg Terminal.
LEARN MORE