How Long Will Jeb Bush Hold His Fire on His Republican Rivals?
So far, he's talked over his conservative detractors. But at the CPAC conference later this month, he won't be able to avoid them.
by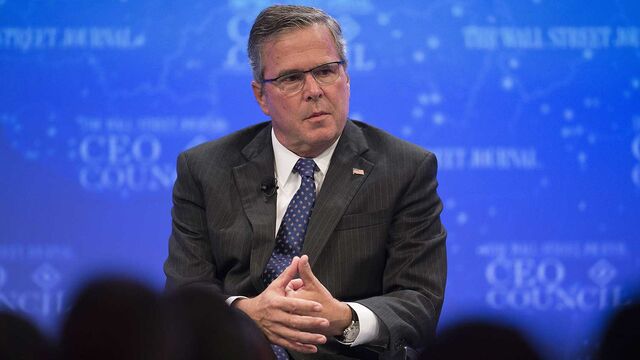 Jeb Bush has been compared to the pale pastels on the colorwheel and the last three Republican presidential losers. He was mocked with a fake phone call that made it appear he was conspiring with Hillary Clinton. He's been blasted for being a Bush, criticized as "the last thing we need."
And that's just what Bush's fellow Republicans say about him.
So far, Bush has been content to let it all slide, refusing to take the bait from traps that Republican Senators Ted Cruz and Rand Paul and Louisiana governor Bobby Jindal and New York businessman Donald Trump have been laying for the past several months. But that's a strategy in itself: Bush, speaking last week in Detroit, said he was hopeful that presidential candidates would focus on their own accomplishments, and not attack others. In a way, it's a rose-garden approach, not dissimilar to the one currently being followed by Hillary Clinton. The calculus may be that attacking these rivals would bring him down to their level.
But there's risk in delaying a response for too long. "An attack left unanswered and unchallenged is an attack confirmed," Steve Schmidt, chief strategist for Republican presidential candidate John McCain's 2008 campaign, said in an interview. "Jeb Bush can delay the confrontation, but he can't postpone it forever."
Bush's return volley may be coming soon. He's scheduled to address the CPAC conference later this month in Washington, a lion's den of conservative activists who enjoy a vivid show from their candidates. Last year, for example, then-Senate Minority Leader Mitch McConnell brandished a rifle on stage and Herman Cain, in 2012, used the spotlight to argue that liberals main objective was to destroy the country. The group has, however, included pro-amnesty speakers at panels in years past, a decision that has irked Republicans like Representative Lamar Smith of Texas. CPAC is liable to be a defining moment in Bush's prospective campaign—it's a setting where he won't be able to avoid his disagreements with the party's conservative wing.
To be fair, there haven't been major accusations yet from the potential rivals to force Bush's hand. The main lines of attack have centered on Bush's support for national curriculum standards, known as Common Core; his support for easing immigration laws and backing a path to citizen for those here illegally; and his last name—even though the Republican Party hasn't won a presidential contest without a Bush on the ticket since 1972.
The early attacks on Bush were distilled in a 60-second web ad sent to reporters on Monday by a conservative group known as Constitutional Rights PAC. The group, which raised about $30,000 last year, is spending about $10,000 to air the spot on Glenn Beck's TV show, spokesman Larry Ward said.
"America is not a monarchy," the video's narrator says. "We do not want dynasties in our White House. We need a new direction for our country and electing a liberal Republican like Jeb Bush is not the answer. But the Washington establishment will try to anoint Bush as our next leader. Jeb supports amnesty, increased taxation, and Common Core. We must show the GOP that we do not want another Bush as our presidential nominee."
Schmidt said Bush was right to avoid engaging in a back-and-forth with Paul or Cruz. "There are two finite assets in a campaign: time and money," Schmidt said. "And time management is an undervalued quality in a campaign. If you're involved in a tit-for-tat a full year before the first contest, it has the potential to exhaust the electorate. And right now, Jeb Bush is articulating what he believes in, what he stands for and why he wants to be president. And he's not going to accomplish that by juxtaposing his positions against Ted Cruz or Rand Paul."
Bush partially addressed the issue last week in a question-and-answer session with Detroit Regional Chamber President Sandy Baruah. Baruah, who referred to Bush as "president" at one point, asked the former Florida governor how he would avoid a repeat of the party's 2012 nominating process, which Baruah compared to the canteen scene from Star Wars. Bush said fewer debates and a more compact primary calendar would help restore some order to the party's primary process, and also called for a disciplined discourse from candidates."Eight years in exile is a long time," Bush said. "And so I think there will be a discipline to recognize how important this race is for the future of the country."
"People will hopefully focus on what they're for," Bush added, "and not to tear down the other people all the time. I just don't see how that's productive. People are tired of it. And the disunity that exists is because people are being preyed upon. Their anxieties are being preyed upon by people that are kind of constantly sticking their finger through the TV set saying, 'This is bad, you're bad,' or whatever. And I don't think you can govern effectively and solve problems."
Before it's here, it's on the Bloomberg Terminal.
LEARN MORE