Ex-Senator Packwood Testifies On 'Getting to Yes' (On Tax Reform)
Nearly 20 years after resigning in disgrace, the Oregon Republican is back.
by
Nearly 20 years ago, Bob Packwood resigned from the U.S. Senate in disgrace, after his political career crashed in an ugly sexual harassment scandal.
Now, the Oregon Republican is back.
He spent more than two hours at the witness table Tuesday in the committee he once controlled, testifying at the awkwardly titled hearing "Getting to Yes." (It's about tax reform.)
Not a single female senator asked a question. And not a word was spoken about the ex-senator's unwanted sexual advances.
Instead, the senators piled on the praise for Packwood and fellow witness Bill Bradley.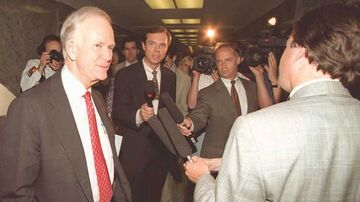 "Honored to have you here," said committee chairman Orrin Hatch.
"Experienced, knowledgeable witnesses," said top Democrat Ron Wyden.
Packwood, 82, was the chairman of the Senate Finance Committee, responsible for the 1986 revamp of the tax code and once one of the most powerful people in Washington. In 1995, plagued by revelations about his aggressive advances toward women, he left the Senate before his colleagues could vote to expel him.
Packwood's written testimony included excerpts from his diaries—though not the portions that got him in trouble.
Just three of the Finance Committee's 26 current members—Republicans Hatch, Dan Coats and Charles Grassley—were in the Senate when Packwood left. All three greeted him warmly before the hearing started.
"It was an unusual choice," said Senator Debbie Stabenow, a Michigan Democrat who is one of two women on the Finance Committee. "Let's just put it that way."
Senator Harry Reid added, "I'm not here to denigrate a man who served in the Senate."
"I don't know who invited him," the minority leader said. "Maybe I would have made a different decision, but there's no need to pile on."
Packwood lingered in the hearing room for more than an hour after the event ended, answering questions for an oral history about Bradley and then taking a few questions from reporters.
Packwood said he felt "comfortable" in the witness chair.
"It seemed like any other hearing I've participated in," he said, "other than I was up there instead of down here."
Packwood said he's been in regular contact with senators as part of his current job—an outside lobbyist for Molina Healthcare Inc., a Medicaid provider.
According to Senate records, the company paid his firm $320,000 last year.
Before it's here, it's on the Bloomberg Terminal.
LEARN MORE