Christie Talks Up His Pork Bona Fides in Iowa
The New Jersey governor said his experience in a liberal state has prepared him for the presidency.
by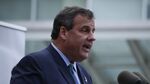 New Jersey Governor Chris Christie told Iowa Republicans on Monday that his experience governing a traditionally liberal state has prepared him to deal with a polarized Congress as president.
Speaking at a Dallas County GOP event, Christie recalled several times that he's butted heads with his state legislature, including his recent veto of a ban on gestational crates in pig farming. As the Des Moines Register reported:
"Now I came in with someone today, and he said, 'Gosh if you ever did run for president, if you ever did become president, how would you be ready to deal with the Congress?' " Christie told an audience of about 100 at a fundraiser for the Dallas County Republican Party in West Des Moines.

"I said, 'Listen, I've dealt with the Legislature in New Jersey for five years. This is a group of folks who passed a ban on fracking when we have no shale. As folks in Iowa will probably recall, this is a group of people that twice passed a ban on gestational crates for pigs, yet we produce almost no pork.'

"If that doesn't prepare you for the craziness in Washington, D.C., I don't know what would," he said.
Christie also addressed the criticism that his brusque manner doesn't jibe with Iowa's culture of Midwestern politeness. 
"I'm not too blunt, I'm not too direct to be in Iowa or any place else in this country," Christie said. "Because what we need now in my opinion in this country more than anything else, is some blunt, direct straight talk to fix problems that that we've been avoiding for too long because we care more about the comfort of people's feelings than about telling the truth and fixing the problems that need to be fixed. I'm not going to shrink away from that ever."
And he talked about pension reform and public employees, according to the Register—a potential point of rivalry with Wisconsin Governor Scott Walker.
I'm not saying Christie came out here wearing a Wisconsin cheesehead, but he did make a point of talking about pension reform. He said he led "tough, common-sense reform" in New Jersey.

"We still have more work to do. I'll tell you, not only in my state but in 40 other states in this country, the pension and public employee health-benefit systems are going to be the thing that eats states alive if we don't get them under control," Christie said.
Before it's here, it's on the Bloomberg Terminal.
LEARN MORE