Obama Says Time Is Running Out for Iran to Negotiate Nuclear Deal
Annie Linskey and Angela Greiling Keane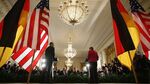 President Barack Obama said Iran is running out of time to make a deal that would break a 12-year impasse and limit the Islamic Republic's nuclear program in exchange for lifting international sanctions.
"They should be able to get to yes," Obama said Monday at a White House news conference with German Chancellor Angela Merkel. He said that stumbling blocks at this point are Iranian "hard-liners" and that nation's internal politics.
The president said he doesn't believe any further extensions of talks would be "useful." Negotiators have a March 24 deadline to hammer out a framework for an agreement to curtail any Iranian nuclear weapons capabilities. Iran says its nuclear program is solely for civilian purposes.
Iran and a group of six countries including the U.S. extended talks after failing to meet a self-imposed deadline in November. They are working on an agreement for the outlines of an accord by the end of March.
Both Russia and China, two powers with which America has been at odds, have been "helpful" in negotiations with Iran, Obama said. He also said there have been "no cracks" among the U.S. allies.
Speaking in Tehran on Tuesday, Iranian President Hassan Rouhani said negotiators had made "good progress," while signaling that securing a final deal will require concessions by the group of world powers.
"Iran has taken the needed steps," Rouhani said according to comments published on his official website. "Now it's the opposite side's turn to seize the opportunity."
Netanyahu Distrust
Supreme Leader Ayatollah Ali Khamenei, Iran's highest authority, said on Sunday that he concurred with the U.S. that a bad agreement, one that didn't safeguard his country's interests, would be worse than no agreement.
The negotiations face headwinds from Republicans in Congress and from Israel, where Prime Minister Benjamin Netanyahu opposes an accord because he distrusts Iran and argues it will secretly develop nuclear weapons. He plans to travel to the U.S. next month to make his case in a speech to Congress.
The address has put a chill on U.S.-Israel relations. Netanyahu was invited by House Speaker John Boehner, a Republican, and Netanyahu accepted without consulting the White House, a break in usual protocol. Obama won't meet with Netanyahu while he's in Washington, because its too close to Israel's elections.
"The prime minister and I have a very real difference around Iran," Obama said. Nevertheless, the president said the U.S. and Israel have a shared interest in reaching an agreement. "Although I can't speak for, obviously, the Israeli government -- it is far better if we can get a diplomatic solution," he said.
Cory Fritz, an aide to Boehner, called Iran "a global menace" in blog post Monday.
"It sponsors terror, undermines its neighbors, still holds American hostages and is closer than ever to break-out nuclear capability," he wrote.
Before it's here, it's on the Bloomberg Terminal.
LEARN MORE