Gay Marriage Cleared by U.S. High Court to Start in Alabama
Greg Stohr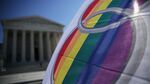 The U.S. Supreme Court cleared the way for same-sex weddings to start in Alabama, letting the number of gay-marriage states climb in advance of a constitutional showdown that may mean legalization nationwide.
In a 7-2 order, the justices rejected Alabama's bid to stop a federal trial judge's legalization order from taking effect Monday. The state now will become the 37th where gays can marry. Justices Antonin Scalia and Clarence Thomas dissented.
The rebuff brings gay marriage to a state whose chief justice, Roy Moore, has told officials not to comply.
The Alabama request was the first to reach the high court since its Jan. 16 decision to take up the issue. Previously, the justices had let gay marriage start in Idaho, Alaska and Florida.
Each new state magnifies the potential complications should the high court rule against marriage rights. A ruling potentially would nullify lower court decisions that have required states to issue licenses, creating uncertainty about the rights of people who wed in the interim.
A federal judge in Mobile struck down Alabama's ban last month, and her ruling is set to take effect Monday. A federal appeals court in Atlanta refused to step in, prompting Alabama Attorney General Luther Strange to turn to the Supreme Court. Governor Robert J. Bentley supported Strange's request.
'Proper Way'
Thomas, in a dissent joined by Scalia, wrote that "the court looks the other way as yet another federal district judge casts aside state laws without making any effort to preserve the status quo pending the court's resolution of a constitutional question it left open" in 2013.
"This acquiescence may well be seen as a signal of the court's intended resolution of that question. This is not the proper way to discharge" the court's responsibilities.
The high court will hear arguments on gay marriage in late April and in all likelihood rule in late June. The number of gay marriage states has tripled since 2013, when a Supreme Court ruling on a federal benefits law cast doubt on state bans.
Since then, four federal appeals courts have backed marriage rights. The justices will review the sole appellate decision that said states could restrict marriage to heterosexual unions, hearing appeals from couples in four states -- Michigan, Kentucky, Tennessee and Ohio.
In addition to the 37 states, the District of Columbia allows gay marriage, as do parts of Missouri.
The Alabama case is Strange v. Searcy, 14A840.
Before it's here, it's on the Bloomberg Terminal.
LEARN MORE