David Brock Resignation Exposes Trouble in Hillaryland
After a report details competition among pro-Hillary groups, a top fundraiser steps down.
by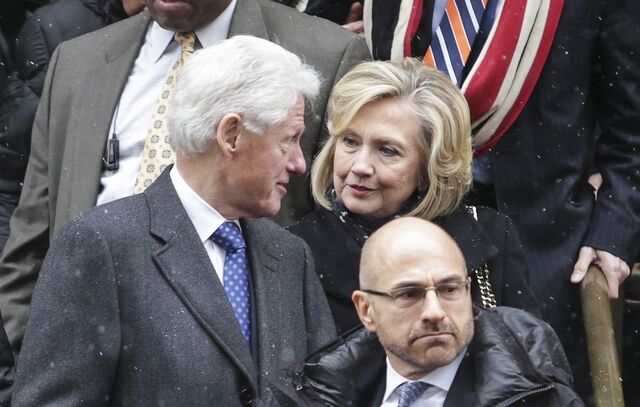 There's trouble brewing in Hillaryland. 
David Brock, a political operative who helps marshall fundraising efforts on behalf of Hillary Clinton, resigned from the board of the super PAC Priorities USA Action on Monday, Politico reported, in a further sign of a widening rift between the groups hoping to steer the former secretary of state to victory in the 2016 presidential election. 
In a resignation letter sent to former Michigan Governor Jennifer Granholm and former Obama campaign manager Jim Messina, who are co-chairs of Priorities' board, Brock said that a "serious breach of trust between organizations that are supposed to work together toward common ends has created an untenable situation that leaves me no choice but to resign my position."
Brock's resignation comes on the heels of a New York Times report on the competition for donations—and the hefty commissions that consulting firms receive for procuring them—among groups like Priorities USA Action and Ready for Hillary. Brock, who also helps lead the rapid response groups American Bridge and Correct the Record, accused Priorities USA Action of being behind the Times' story, and accused it of launching "an orchestrated political hit job" on pro-Clinton American Bridge and Media Matters. 
Priorities spokesman Peter Kauffmann denied that the super PAC had anything to do with the article in the Times, Politico reported. 
Brock is a veteran of the sharp-elbowed world of campaign fundraising and opposition research. In the early 90's, he helped lead the conservative "dirt-digging operation into the Clintons' past," as Brock told the Times. A few years later, Brock changed his mind about the Clintons, and, in 2002, published a memoir titled, "Blinded by the Right: The Conscience of an Ex-Conservative." 
For Brock, the Times article had an all-too-familiar ring to it. 
"Frankly, this is the kind of dirty trick I've witnessed in the right wing and would not tolerate then," Brock said in the resignation letter obtained by Politico. "Our Democratic Presidential nominee deserves better than people who would risk the next election—and our country's future—for their own personal agendas."
At a time when Clinton is striving to stay below the radar before she officially jumps into the presidential campaign, the discord among those tasked with promoting her brand is, to say the least, unwelcome.
UPDATE: Late Monday it appeared that Brock and Priorities USA Action were working to patch things up, with each party releasing statements. 
"We take the concerns board member David Brock raises seriously and are working to address them," Granholm, Priorities USA Action co-chair,  said. "We've worked seamlessly with American Bridge and Correct the Record and we will continue that strong collaborative relationship—because we all have the same shared goals. David Brock and his team are talented, effective and dedicated professionals." 
For his part, Brock also sounded a conciliatory note. 
"After talking to several leaders of Priorities USA Action, I am confident they want to address the situation. I'm open to returning to the board and I share their desire to find a way to move forward. We will be meeting to work on establishing that path and strengthening our relationship and getting back to the important work we need to do," Brock said. 
Before it's here, it's on the Bloomberg Terminal.
LEARN MORE