Alabama Judge Who Called Gay Marriage the 'Ultimate Destruction' Rejects Radical Label
State Supreme Court Chief Justice Roy Moore is used to the spotlight.
by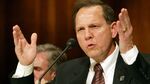 This isn't Alabama Supreme Court Chief Justice Roy Moore's first rodeo.
The judge—who told officials to defy a court order to grant marriage licenses to gay couples before the U.S. Supreme Court on Monday rebuffed him—cut his profile in the early 2000s during a fight over a Ten Commandments display that ended with him kicked out of office. He staged a successful comeback bid in 2012. As our colleague Margaret Newkirk reported during his campaign, Moore had made no bones about his views on Christianity and what he called the "homosexual lifestyle" during the first phase of his career.
The U.S. Constitution "is a restriction of the fallen nature of man," Moore, 65, said. "And when you have a fallen nature, you succumb to greed and lust, which you can see in our government." ... Moore said he is running on his respect for the U.S. Constitution and opposition to gay marriage, which he called "the ultimate destruction of our country" at a rally last week. ... In 2000, with evangelical Christian support, he won the chief justice seat and ultimately brought a granite version of [a Ten Commandments] monument to the Supreme Court building in Montgomery. The U.S. District Court for the Middle District of Alabama ordered its removal in 2002 and Moore, who didn't comply, was ousted the following year. The monument was only part of the problem with Moore, said Richard Cohen, president of the Southern Poverty Law Center in Montgomery, which sued with the ACLU and does not take a stand in political races. One Moore opinion said the state could use its power to levy physical penalties, including execution, to protect children from the "homosexual lifestyle," he said. The opinion included a legal citation to Leviticus in the King James Bible.
Moore triumphed over his Democratic opponent, whose father was a federal judge killed by a mail bomb in 1989:
In Alabama and much of the region, even a disgraced Republican is now better than none, Natalie Davis, professor of political science at Birmingham-Southern College, said in a phone interview.

"I don't think we'll see another Democrat elected statewide for the next 30 years, unless Nick Saban runs as one," Davis said, referring to the coach of the ... University of Alabama football team.
His 2012 race wasn't just colorful—unique campaign-finance dynamics were at play too, partly influenced by Karl Rove:
The Alabama Supreme Court became the nation's top battleground between Democratic trial lawyers and Republican business leaders more than a decade ago, said Charlie Hall, deputy executive director of Justice at Stake in Washington, which opposes special interest money in the judicial system. ... Hall said the spending arose from Republican campaign strategist Karl Rove's discovery that civil liability was a potent political issue for his party. Alabama was one of Rove's early laboratories, transforming what had been low-profile, low-budget campaigns, he said in a phone interview. Rove "was hired in 1994 by a group of Alabama business leaders who had seen the success of the court reform efforts in Texas," Sheena Tahilramani, chief of staff for Washington, D.C.-based Karl Rove & Co., wrote in an e-mail. All the court justices are now Republican.
Moore appeared unrepentant about the commandments episode, but said he would move on.
"I don't think I'm a radical," he said, before beginning the Kiwanis speech that included a history of the U.S. Pledge of Allegiance and remarks by World War II General Douglas McArthur. If elected, Moore will not bring back the Ten Commandments monument, he said. "I won't do it because it would confuse people," he said in an interview."They would think it was about my ego or willfulness or a monument or rock. It was never about that. It was about the sovereignty of the Judeo-Christian God."
Read more on Moore's resurgence, and his effort to halt marriages in Alabama this week, here and here.
Before it's here, it's on the Bloomberg Terminal.
LEARN MORE