The 'Major Mistake' in Romney's 47% Comments, According to Ben Carson
The likely 2016 candidate says where his party's old standard-bearer went wrong.
by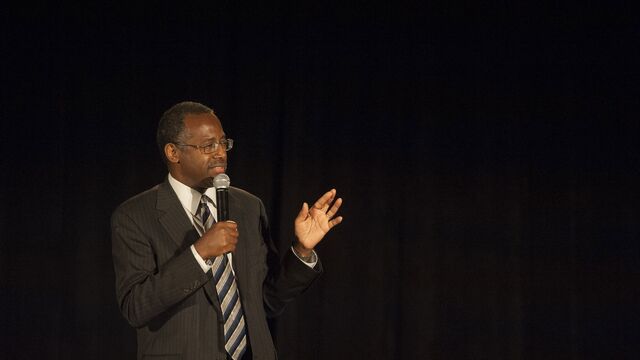 Likely presidential candidate Ben Carson on Sunday offered a critique of 2012 nominee Mitt Romney's "47 percent" comments, saying his fellow Republican made a key error in his characterization of Americans who don't pay federal income tax.
"He made one major mistake," Carson said on Fox News Sunday, according to a transcript from the program. "He assumed that they all had the same mentality. They don't. A lot of people in that 47 percent are very anxious to experience the American dream. What they are looking for is the right mechanism, the pathway out. This is what we have to provide for them, and that's going to include fixing the economy, which is not going to be that difficult to do, quite frankly—you know, some tax reform, some real tax reform, regulatory reform, you know, utilizing our natural resources the right way."
Asked whether the debate over President Barack Obama's community college expansion plan is contributing to voters' perception that Republicans aren't looking out for the little guy, Carson said, "There are Pell grants available for poor people to go to community college already. They have existed for years and they are very effective. For those who are not poor, there is a four letter work that works extremely well. It's called W-O-R-K, work. And appreciate the education that you are getting. You know, we don't have to give away everything."
The retired neurosurgeon and popular speaker said he is coming closer to announcing a White House bid. A Bloomberg Politics/Des Moines Register Iowa poll in January showed him as the first choice of 9 percent of likely Republican caucus-goers, behind Wisconsin Governor Scott Walker, Kentucky Senator Rand Paul, Romney (who has said he won't run again), and former Arkansas Governor Mike Huckabee. A Bloomberg Politics/Saint Anselm New Hampshire poll found Carson was the first choice of 6 percent of Republican primary voters, behind former Florida Governor Jeb Bush, Paul, Walker, and New Jersey Governor Chris Christie. 
Before it's here, it's on the Bloomberg Terminal.
LEARN MORE