Perry, Jindal, and Walker to Congressional Republicans: Drop Dead
Jindal, Perry, and Walker arrive in DC to mock it.
by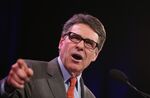 Calculations vary, and "dark money" complicates the math, but the Republican victories of 2014 cost candidates and pro-Republican groups around $1.75 billion.  The last major race of the cycle, the fight for Louisiana's U.S. Senate seat, cost outside groups and now-Senator Bill Cassidy at least $30 million. Cassidy's victory padded a Republican Senate majority that took eight years to recover.
To hear Republican governors talk, however, you'd hardly know that their party had achieved such a hard fought turnaround. 
Since last Friday, three Republican governors and likely 2016 presidential candidate have swooped into Washington to give policy talks. Since last Friday, none of them have had a kind word for the city, or even the Republican leaders in Congress. The first of these speeches, given by Wisconsin Governor Scott Walker to the American Action Forum, was limned with attacks on the beltway—"I like to call it 68 square miles surrounded by reality"—and otherwise focused on descriptions of how Walker had outsmarted the feds.
"I ask my fellow governors: Why is putting more people on Medicaid a good thing?" Walker asked, rhetorically, discussing his successful fight to opt Wisconsin out of the Affordable Care Act's coverage expansion. "The things we see here in Washington, the massive power we see in Washington, is taking away from those incentives [to work]."
On Thursday afternoon, Louisiana Governor Bobby Jindal addressed the American Principles Project's annual gathering at the Mayflower Hotel. 
"Right now you've got an attempt by many in this city to say, well, we can't really repeal Obamacare," said Jindal. "Never mind all the rhetoric. Never mind the promises we made on the campaign trail. Now it's time to govern."
The governor's voice dripped with sarcasm as he imitated wimpy Republican legislators worrying about how "difficult" it would be to replace the ACA. "My message to the Republican leaders, the Republican party, the Republican elected officials, is: Do what you promised the electorate. Don't just become cheaper Democrats. We don't need Democrat Lite."
Jindal was interrupted by applause from more than a hundred conservative activists and donors—but he had another zinger ready.
"If the whole point of the election was to give John Boehner and Mitch McConnell bigger offices," he said, "just give 'em back."
That was Jindal's only reference to this week's news of a "replacement" health care plan drafted by a super-group of Republican legislators from red states. He didn't even mention the repeal vote the Republican-led House had just taken—a vote supported by every Republican legislator from Louisiana. After Jindal finished his speech, he faced a swarm of reporters and talked up his 2014 "Blueprint for Health Care Reform," which is backed by some fellow conservative governors.
"The point is, our plan truly repeals and replaces Obamacare," said Jindal. "My message to Republicans here is: Don't just do Obamacare light." Weekly Standard reporter Michael Warren asked Jindal to clarify, and explain whether his plan would allow Americans to keep their Obamacare-era health plans. "Absolutely," he said. "If people wanted to use their standard deduction to pay for insurance through their employers, they could do that, but they don't have to."
Though Jindal had found Congressional Republicans unworthy, at least he'd acknowledged their existence. A few hours later, in remarks to the APP gala, former Texas Governor Rick Perry mentioned the GOP's congressional win by mocking it.
"A congressional majority is a terrible thing to waste," said Perry. "The power granted to Republicans by the people has to be used to serve the people. It is not good enough to state what we are just against."
Perry ran through what Republicans see as the failures of the Obama years, making no mention of Boehner/McConnell efforts to erase them. "Six years of study on the Keystone Pipeline, and still nothing happens," said Perry, not mentioning the lengthy nights Senate Republicans had spent to pass a Keystone bill. "We also have to be honest with the American people about the immoral debt that's being placed on the next generation. No great nation, no great nation, has ever taxed and spent its way to prosperity. Never. Yet, that's exactly the solution our current leaders seek." 
That plural, leaders, didn't leave anyone in Washington unscathed.
—Julie Bykowicz contributed to this report.
Before it's here, it's on the Bloomberg Terminal.
LEARN MORE