Green Party's Jill Stein Exploring Run for the White House
The heir to Ralph Nader's legacy will consider running again, after poor showing in 2012.
by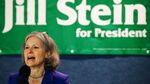 Dr. Jill Stein, the heir to Ralph Nader's legacy, will announce Friday morning that she is launching an exploratory committee to seek the Green Party's nomination to run for president. Yes, of the United States. 
"The voices of resistance and transformation deserve to be heard loud and clear in this election," read her prepared remarks. "That's why I am announcing today the formation of an exploratory committee for the 2016 presidential election."
Stein's name recognition is likely even lower than her unsuccessful predecessor. As The New York Times put it during her 2012 run, "she is also very likely the only candidate to be asked, 'For president of what?'" Despite polling at 2 percent ahead of the election, Stein's ticket only garnered about 0.36 percent of the vote, or 469,628 votes. That was lower than Nadar's total when he last ran for the party in 2000, but much better than the party's 2004 and 2008 candidates. As David Weigel noted at the time, the 2012 election was expected to be close, leading to more liberals voting for someone who stood a chance of winning.
Still, with low expectations comes a lot of freedom, which is evident in the way Stein plans on addressing the moment's biggest issues. Stein notes that this is a historic moment in time, with young people "leading the courageous Black Lives Matter movement to end police militarization and racist violence," students demanding an end to debt, immigrants standing up for a path to citizenship ("not simply a 3 year deferral of deportation"), and communities fighting against fossil fuels. 
While many of her platforms goals are just about, if not completely, impossible (she calls for "an emergency transition to a green economy powered by 100% wind, water and sun by 2030") liberals can take heart knowing there's someone getting serious about running to left of Hillary Clinton.
Before it's here, it's on the Bloomberg Terminal.
LEARN MORE