What Chris Christie Must Do to Get Back on Track
A clear-eyed look at the early states and some image rebranding are in order.
by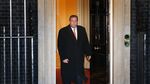 Chris Christie is looking for a reset button.
As he returns to the United States from an off-message trip to England, during which the topic of vaccination trumped his state's trade ties with the United Kingdom, the New Jersey governor must now figure out a way to emerge from under Jeb Bush's shadow in the competition for the hearts and wallets of center-right donors, and do so fast. 
The political action committee Christie formed last month, and which is seen as a precursor to his likely presidential campaign, held its first conference call Wednesday with early backers. Christie's brother Todd and several advisers participated in the 45-minute call along with Christie donors and supporters, and fielded questions, according to participants, detailing the PAC's plans for early staff hires from Iowa and New Hampshire. Christie's also planning visits to Iowa, New Hampshire, Illinois, California, Connecticut, Arizona, Michigan and the nation's capital, according to sources familiar with his plans, including a Feb. 9 meeting with Republicans in Dallas County, Iowa, the state's fastest growing county.
Both early Christie supporters and uncommitted donors and strategists who are open to supporting him said the governor must now begin moving on three fronts:
1. Determine which early-voting states hold the key for him to get ahead of Bush. One argument is that it may make more sense for Christie to focus on New Hampshire and Nevada rather than invest too much in Iowa, where either Christie or Bush would face a tough road to the top against more conservative candidates. The counter-argument is that it's too soon to cede the top center-right spot in Iowa to Bush, who hasn't run for office in years, and that Christie's close connections to Governor Terry Branstad there will serve him well even if Branstad doesn't choose sides.
2. Focus on governing successes in New Jersey. After all, Christie will be running on his record, and he must show voters that the job to which he was elected is his priority.
3. Acknowledge his past temperamental shortcomings and rebrand himself as a straight-talker who understands the value of deliberation and restraint.
These assessments are taking shape after an England trip that was supposed to be about burnishing Christie's foreign policy credentials but was overshadowed by controversy over whether he was pandering to anti-vaccine conservatives in the midst of a measles scare and a backlash after the declining to answer reporters' questions about the Islamic State. Christie also had been dogged by recent coverage of his friendship with Dallas Cowboys owner Jerry Jones, who is connected to a company that got a contract with the state Port Authority; revelations that the king of Jordan paid for portions of a Christie family vacation in 2012; and his own rant last year for a heckler angry about the slow Hurricane Sandy recovery  to "sit down and shut up."
"This really is a marathon and it's not a sprint," said Bobbie Kilberg, a Republican fundraiser from Virginia who has put her support behind Christie following Mitt Romney's decision not to run again. "I disagree with Chris on his vaccine statement but I still strongly support him.  People need to look at Chris' full record and set of accomplishments and not get derailed by one issue or one statement where he did not clearly or fully state his viewpoint. We have a long 18 months to go before the nomination so let's not get hung up on every blip.
"You're going to have good weeks, better weeks and not so good weeks," Kilberg said. "If you take a look at what Chris' strengths are, he's the best communicator I've seen since Ronald Reagan. So the challenge will be to get him out and around in the country in a way that as many people as possible get to see him and know him. His authenticity is a great strength. I think that he's also aware that perception matters. Going forward, I think he understand that how he says things matters. He understands that words matter."
Gary Kirke, an Iowa Republican donor who pushed a Christie candidacy in 2012, says now he is keeping his options open because there's such a big field. "I didn't see a lot of support for him among people I know right now in Iowa," Kirke said of Christie. "It's my opinion he's got an uphill battle but it's not anything that isn't conquerable." Bridgegate and perceptions that Christie was too friendly with President Barack Obama during Hurricane Sandy and its aftermath have also hurt him, Kirke said.
As for Christie's temperament, Kirke said Christie's willingness to stand up to unions and speak his mind is a major selling point while "he needs to be a little more careful with his words, while still having the same effect. I love his reaction to those kinds of things but I think he's got to be a little careful not to come across too rough or that will hurt him. I admire strength, really, a lot. I just think you've got to be a little finessed."
Jeff Boeyink, former chief of staff to Branstad and a Christie supporter, said Christie's visit to Dallas County next week is part of a plan to connect him to likely caucus-goers on a more personal level, with a "slow and organic" approach. "Once people meet him there's the capacity to have an emotional connection with him, and we need that," Boeyink said of Republicans in 2016. "One of the problems for our party at times has been candidates who maybe look good on paper but simply can't connect with voters beyond the surface." While conventional wisdom has it that "sit down and shut up" hurt Christie in Iowa, Boeyink said he has seen the opposite effect. "I've watched it play now, and it's actually been helpful; they come in expecting that and they see what a really nice and engaging man he is. I think Iowans will be very satisfied when they get to know him more fully."
One New Hampshire strategist, who spoke on condition of anonymity because he has not aligned with any candidate, said the danger for Christie in investing too much energy in Iowa is that no center-right candidate is going to take the top spot there and the stances he might have to take to secure the No. 2 spot could box him in in a way that hurts him going forward. He said Christie has to understand his "bracket"—which places him with candidates like Bush, Marco Rubio, possibly Scott Walker, and John Kasich and George Pataki. While Christie has to be seen in Iowa and engage with conservatives to show he's not afraid of them, the strategist said New Hampshire is his must-win state assuming Bush has a hold on Florida, and that Christie's brand also may play well with Republicans in Nevada and Michigan. 
Christie's biggest issue may be his temperament, the New Hampshire strategist said. His advice: Agree to a couple of extended-length, high-profil interviews that are not confrontational but conversational. Christie must make the break from the narrative he's facing in the mainstream media, the strategist said, and show he can relate in a clear-headed, thoughtful way.
One national Republican strategist who is not affiliated with any of the presidential hopefuls said he would advise Christie to focus on being governor, and to concentrate more on New Hampshire and Nevada than on Iowa. Nevadans can appreciate Christie in a way Iowans cannot because of cultural differences, the strategist said, adding that no one has ever said, "What happens in Sioux City stays in Sioux City."
Mark Halperin contributed to this story. 
Before it's here, it's on the Bloomberg Terminal.
LEARN MORE