Why Do Republicans Have Such a Hard Time With Vaccines?
Is mistrust of government fueling the party's vaccine skepticism?
by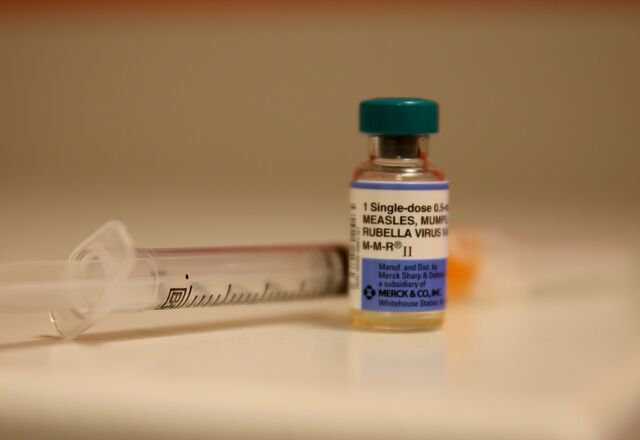 When New Jersey Governor Chris Christie headed to London this week, his goal was to shore up his foreign policy credentials with friendly visit to America's strongest ally. Instead, he ended up entangling his party in an emotionally-fraught battle back home.
Christie, Kentucky Senator Rand Paul, and the rest of the Republican presidential field have spent much of the past few days clarifying their positions on mandatory vaccination—a long-established tenet of public health that been met with skepticism by an unusual coalition of crunchy liberals, Christian conservatives, and anti-government libertarians.
While neither party has a lock on anti-vaccine sentiment, the GOP's suspicion of government, broadly, and of science, in general, is particularly strong, which explains why Republican candidates often find themselves struggling to strike a balance between medical evidence and conservative mistrust. It's a conflict that's played out for years over climate change, as Republicans try to please their base while fending off mockery for disputing long-established evidence that human activity contributes to rising temperatures. And it flared up again last year amid fears of an Ebola outbreak when doctors criticized Republicans, including Christie, for calling for stringent quarantines.
There are signs that the vaccination issue could morph into the same kind of Republican litmus test—a prospect that many in the party quickly tried to tamp down with strong statements in support of immunization. Still, six years ago, an equal percentage of Democrats and Republicans backed requiring vaccines for children. When asked again last week, Democratic support held at 71 percent, while Republican and independents fell to 65 percent.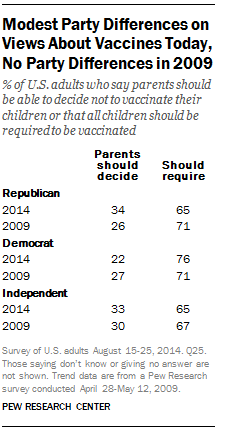 In 2012, GOP primary rivals attacked then-Texas Governor Rick Perry for becoming the first governor in the country to mandate that sixth-grade girls be vaccinated against human papillomavirus or HPV. Former Pennsylvania Senator Rick Santorum derided Perry's executive order as the "heavy hand of government" and Minnesota Representative Michele Bachmann said the virus could cause "mental retardation." Though her claim is untrue, Perry apologized for his action. "If I had it to do over again, I would have done it differently," he said.
As far as political issues go, HPV was close to a perfect political storm for Republicans: a combination of suspicions of executive abuse, wariness of sex education, and vaccinations. What's clear, though, from the sociological research about vaccination rates more generally is that anti-vaccination parents stick together. Fueled in part by discredited claims linking childhood shots to autism, they cluster in certain geographic areas like the staunchly Democratic San Francisco Bay Area, fitting the stereotype of ecologically-minded liberals worried about polluting their children's bodies. But that's not the situation nationwide, as a map from the Center for Disease Control shows. High concentrations of anti-vaxxers are also found in more conservative states like Alaska and Idaho, suggesting that opposing immunization is a shared belief among left-leaning circles, Tea Party backers, and conservatives alike.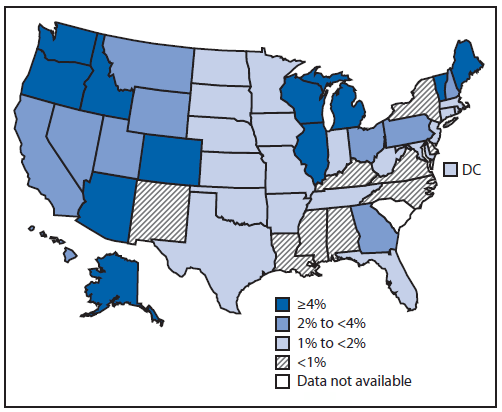 For clues as how these clusters get started, look to Scandinavia. A 2013 study in the Scandinavian Journal of Public Health suggests vaccine opponents may simply have trust issues. Swedish political scientist Bjorn Ronnerstrand looked at the differences between Swedes who were vaccinated against the H1N1 virus in 2009 and those who opted out, controlling for age, gender, education, health, and level of personal concern about an outbreak. Those who got vaccinated, he found, had higher levels of faith in both the Swedish healthcare system and society in general. A larger survey of H1N1 research conducted by the Department of Sociology at the University of Geneva found similar trends.
"Many Swedes trusted the way their national authorities handled the pandemic, which led to the highest vaccination rate in Europe," wrote the authors. "By contrast, the French population trusted their authorities less and the vaccination rates remained low."
American trust in government among the entire population is at a record low, but it's particularly down among Republicans. In a 2013 survey conducted by the Pew Research Center, nearly 3 in 10 Democrats said they could trust the government, compared to just 10 percent of Republicans.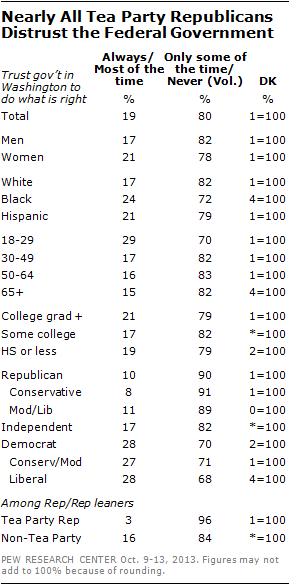 For libertarians, the idea of mandatory vaccination conflicts with a philosophy of limited government intervention. There's also some level of correlation between anti-vaccination and homeschoolers, in part because of immunization requirements for public school. In 2008, Christian home-school advocates helped boost former Arkansas Governor Mike Huckabee to victory in Iowa and emerged again four years later to aid former Pennsylvania Senator Rick Santorum.
For a crowded field of Republican wanna-be presidents, who are fighting for every possible pocket of votes, wooing anti-vaccinators matters—particularly in the early primary state of Iowa. That dynamic certainly helps explain Kentucky Senator Rand Paul's strictly libertarian remarks on the subject and even his endorsement of the thoroughly disproven belief that vaccines cause autism. "I've heard of many tragic cases of walking, talking, normal children who wound up with profound mental disorders after vaccines," he said on CNBC on Monday night.
And it just might explain Christie's strangely equivocal remarks on the subject in London on Monday. "It's more important what you think as a parent than what you think as a public official," he declared. "I also understand that parents need to have some measure of choice in things as well. So that's the balance that the government has to decide."
But as with many issues in presidential politics, what lights up voters in a Republican primary can easily burn in a general. Within hours of his remarks, Christie's office quickly walked back them back.
"To be clear: The governor believes vaccines are an important public health protection and with a disease like measles there is no question kids should be vaccinated," a statement from the governor's office said. "At the same time different states require different degrees of vaccination, which is why he was calling for balance in which ones government should mandate."
Paul went a step further, taking a New York Times reporter with him when he went to get a booster shot for Hepatitis A from a Capitol Hill doctor. 
"It just annoys me that I'm being characterized as someone who's against vaccines," Paul told the Times. 
"There's 400 headlines now that say 'Paul says vaccines cause mental disorders,'" he added. "That's not what I said. I said I've heard of people who've had vaccines and they see a temporal association and they believe that."
That message was echoed by a number of candidates on Tuesday, showing that Republicans are hoping to take vaccines off the table as a presidential issue. "Children should be fully vaccinated," Florida Senator Marco Rubio told reporters at the U.S. Capitol. "Why would we go backwards?"
But for Christie, Rubio, and the rest of the Republican field, the problem may be that Democrats—and more importantly likely nominee Hillary Clinton—seem to have a very different plan in mind.
Before it's here, it's on the Bloomberg Terminal.
LEARN MORE