Reid Won't Condemn Democrats Boycotting Netanyahu Speech
"That's a personal decision," the Senate Democratic leader says.
by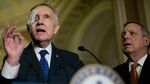 The Senate's top Democrat on Wednesday stopped short of criticizing lawmakers in his party who are planning to boycott Israeli Prime Minister Benjamin Netanyahu's speech to a joint session of Congress. He just won't be among them.
"That's a personal decision," Harry Reid, a Nevada Democrat, told reporters. He will attend the speech "unless something comes up," he said.
Netanyahu is scheduled to address a joint session of Congress on March 3 at the invitation of House Speaker John Boehner, an Ohio Republican. The White House has slammed the invitation as a breach of protocol, and President Barack Obama said he won't meet with the prime minister because of the proximity of Israeli elections.
Reid's top lieutenant, Minority Whip Richard Durbin of Illinois, said he was considering joining the boycott.
"I haven't made a final decision on that, but I am very troubled," Durbin said Wednesday at an interview at the Capitol. "I don't think it helps our relationship with Israel, and I think it was a very short-sighted decision by the speaker and the prime minister."
Vice President Joe Biden typically would attend a joint session. White House press secretary Josh Earnest said Biden's schedule for the week of the speech hasn't been set yet. His presence in the chamber for Netanyahu's speech "is going to be contingent on his schedule."
Asked whether Democratic lawmakers should attend, Earnest said, "Individual members will have to decide for themselves." 
On the House side of the Capitol on Wednesday, a group of seven "strong Democratic supporters of Israel" met with Israeli Ambassador Ron Dermer to try to "defuse some of the optics" over the speech, New York Representative Steve Israel told reporters.
No one suggested canceling the speech, though he would favor postponing it until after March 17 Israeli elections, he said.
The group told Dermer that "style has overtaken substance and we need to get back to the substance of the relationship between the United States and Israel," the lawmaker said.
"Israel has a very valid, legitimate concern with a negotiation on its survival where decisions may be made without Israel at the table" and "has the right to express its view to the United States Congress," the lawmaker said. "The timing of this and the speaker's decision not to consult with the president is distracting us from the important substance of the negotiations and our relationship with Israel."
Other participants included Representatives Jerrold Nadler, Debbie Wasserman Schultz, Nita Lowey, Sander Levin, and Ted Deutch.
Reid returned to work at the Capitol this week after a one-month absence following an exercise accident that left him with broken ribs, a concussion, and broken facial bones that caused him to lose vision—at least temporarily—in his right eye.
Mike Dorning and Jim Rowley contributed to this report.
Before it's here, it's on the Bloomberg Terminal.
LEARN MORE