Jeb Bush Starts Outlining a Vision as He Considers White House Campaign
Back on the campaign trail, he pushes broad goals without many specifics.
by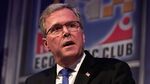 DETROIT—Inside an expansive ballroom in one of America's most troubled cities, Jeb Bush sketched a broad outline for his increasingly likely presidential campaign, saying the nation—on the verge of another golden era—could double its rate of economic growth and should welcome immigrants willing to embrace U.S. values.
The former Florida governor, who revealed that he considered becoming NFL commissioner before leaving office in 2007, barreled through a 3,000-word speech in about 20 minutes, pausing only for occasional applause.  The rapid-fire address, billed as Bush's first campaign-style speech, gave broad policy goals but few details of how he would go about achieving them.
He portrayed Washington as a drag on an economic recovery that "has been everywhere but in the family paychecks."
"Tens of millions of Americans no longer see a clear path to rise above their challenges," Bush said. "Something is holding them back. Not a lack of ambition. Not a lack of hope. Not because they are lazy or see themselves as victims. Something else. Something is an artificial weight on their shoulders."
Bush, who is hosting a Wednesday night fundraiser in Detroit and another on Thursday in Ann Arbor, also met with about 30 high school students before the speech, taking questions  and seeking their input on economic issues and foreign policy.
Bush's speech was well received by the crowd of about 600 members and guests of the Detroit Economic Club, a pro-business group that includes CEOs and major Republican donors. He appeared most at ease during a question-and-answer session, moderated by Sandy Baruah, president of the Detroit regional chamber of commerce. Bush twice joked that he would "go outside" with anyone who challenged the greatness of his father, former President George H.W. Bush, or disagreed that the country was on the verge of a golden era.
The second point came in a response to a question that compared the 2012 Republican presidential primary field to "the canteen scene in Star Wars," and asked Bush to assess the potential field this time. Bush laughed, and said he'd be "in trouble for just listening to that." 
"The disunity that exists is because people are being preyed upon, their anxieties are being preyed upon by people that are kind of constantly sticking their finger through the TV set saying, 'This is bad, you're bad,' or whatever," Bush said. "And I don't think you can govern effectively and solve problems. My belief is, four or five big, complicated things, if they're fixed, this is the greatest time to be alive as Americans. I totally believe it. And I'm not delusional. It's the God's-honest truth and if anyone wants to disagree with me on that, we can go outside, too."
Bush also acknowledged in response to a question that he was approached about becoming NFL commissioner in 2006. "It's not as easy of a job as it might have appeared in 2007," Bush said. "There were owners that asked me about it and it was nine months to ending my tenure as governor, and to be honest with you, that is the greatest job in the world, being governor of a state. And I could never  have imagined abandoning that job."
Bush, who has been criticized within  the party's conservative wing for supporting immigration reform, barely touched on the subject during his prepared remarks. Asked about it after his speech, Bush said immigration reform was a "great frustration" for him. "This should be the lowest hanging fruit," he said.
"Immigration is not a problem," Bush said. "The immigration experience in our country makes us unique and special and different. And it is part of our extraordinary success over time. And while the political fights go on over time, we're missing an opportunity."
In the speech, Bush focused his remarks on the need to restore the "core principles of a right-to-rise society." The four principles for Bush to increase opportunities were making sure elected officials recognize the important of "committed families," growing the economy,  easing restrictions on the labor market, and closing the income gap.
Bush offered few specifics, other to say the nation's economic output should be growing at 4 percent per year, nearly double what it is today.
"I don't think the U.S. should settle for anything less than 4 percent growth a year," he said. "At that rate, the middle class will thrive again."
Before it's here, it's on the Bloomberg Terminal.
LEARN MORE