Do Conservatives Care About Cities?
In one line of his 3,000-word speech, Jeb Bush revealed a way he could pile up enough votes to win the White House.
by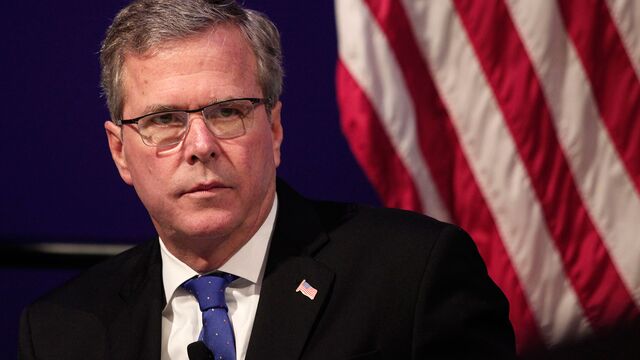 In early 2012, the Obama camp, huddled together in frigid Chicago, observed that Mitt Romney, the presumptive Republican presidential nominee, was having a problem with potential voters: many said he didn't seem to "understand people like me." This tidbit, according to the Washington Post, helped the Obama shop cement its campaign strategy: they would portray the Republican frontrunner as a cold corporate executive, all Brylcreem and private equity and stony feeling. The plaster in this cast hardened when Mother Jones published videotape of Romney, a man of notable wealth even among privileged American politicians, disparaging the "47 percent" of Americans who, he said, pay no income tax and show no personal responsibility. Even when Romney's running mate, Paul Ryan, encouraged him to visit cities to address poverty and other urban problems, Romney was reluctant. He wound up winning just 29 percent of the big-city vote; 69 percent went for Obama. Ryan credited Obama's wide margin to  "the turnout especially in urban areas."
For the next election, Jeb Bush is trying to get ahead of this problem. Romney is out of the running, and on Wednesday, in a speech that many consider his debut appearance as a leading Republican candidate, Bush showed he's learned from the defeated candidate's mistakes. "I know some in the media think conservatives don't care about the cities," Bush said, at a meeting of the Detroit Economic Club. "But they're wrong." 
His very comment underlined what can hardly be disputed: that Republicans have painted themselves as the anti-urban party. At the party's last convention, in 2012, the word "city" was hardly uttered. The word 'urban' was used only twice—once to lambaste the Obama administration for, in its terms, "replacing civil engineering with social engineering as it pursues an exclusively urban vision of dense housing and government transit"—in the party platform.
The Republican Party has been steadily focused on suburban, exurban, and rural voters. Republicans have won in the past by talking of heartland, lamenting regulation and affordable housing, favoring cuts to city programs like Section 8 housing. But bed-and-breakfast communities aren't—not in symbol, not in fact—what they used to be. In 2011, urban population growth outpaced suburban growth for the first time in almost a century. Plus, as Richard Florida has written, 85 percent of economic output comes from American cities. More Americans than ever are living in urban areas, and their votes are needed.
And Detroit, America's Motor City, is not an arbitrary place for Bush to be making this statement, or to try to reframe the party platform around the precarity of the American middle class. The seat of the automobile industry, Detroit was a national "Arsenal of Democracy" during World War II. In fact, the automobile is the very thing that allowed for the twentieth-century boom in suburban growth. But after the financial recession, Detroit city fell into financial emergency, eventually filing the largest municipal bankruptcy case in American history. It could not have been lost on Detroit residents that Obama decided early on that he would bail out the auto industry, while Romney, the son of a former chief executive of American Motors, and Bush, opposed the plan.
Jeb Bush is hoping to bring urban dwellers into the fold, maybe through strategies on education reform: the push for charter schools with teacher accountability, without union contracts. Maybe he'll propose programs that other Republicans have recently supported, like 'right to work' economic enterprise zones (talk to Illinois Gov. Bruce Rauner) or earned-income tax credits (ask Paul Ryan, still that bit more savvy to the needs of the middle class). But for now, Bush is bringing those urban dwellers into the rhetoric.
Wednesday in Detroit he pledged that conservatives do care about cities. "We believe that every American and every community has a right to pursue happiness," he said. "They have a right to rise. So I say: Let's go where our ideas can matter most. Where the failures of liberal government are most obvious. Let's deliver real conservative success, and you know what will happen? We'll create a whole lot of new conservatives."
Before it's here, it's on the Bloomberg Terminal.
LEARN MORE