Defense Nominee Carter Says He Supports Sending Arms to Ukraine
David Lerman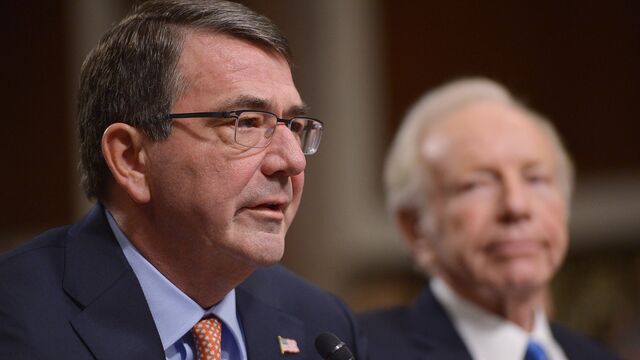 President Barack Obama's nominee for defense secretary said he could support sending weapons to Ukraine, differing from White House policy on how to help the government in Kiev defeat Russian-backed separatist rebels.
"I'm very much inclined in that direction," Ashton Carter said at his confirmation hearing Wednesday before the Senate Armed Services Committee.
The Obama administration played down the possibility of sending weapons to Ukraine this week, even as fighting intensifies in a conflict that has cost more than 5,000 lives.
"A decision like this will be made by the commander in chief," White House spokesman Josh Earnest said at a press briefing Wednesday, when asked about Carter's position. "The president will certainly take that advice into account."
U.S. strategy remains focused on applying economic pressure on Russia and diplomatic pressure on President Vladimir Putin, Earnest said.
"Providing additional military assistance could and is likely to have the effect of increasing the bloodshed," he told reporters at a briefing Tuesday.
Former Secretary of State Henry Kissinger told a congressional committee last week that he's "uneasy about beginning a process of military engagement without knowing where it will lead us and what we'll do to sustain it."
Worst Standoff
After the latest attempt at a truce failed last week, both sides in the conflict have moved toward pouring more arms and soldiers into a battle that has triggered the worst standoff between Russia and its Cold War foes since the fall of the Iron Curtain.
The U.S. isn't considering sending troops to Ukraine, which isn't a NATO ally. "I was suggesting the provision of equipment for the Ukrainian military," Carter said.
While Carter's nomination has won support from lawmakers of both political parties, Republican Senator John McCain of Arizona, the committee chairman, is using a day-long confirmation hearing to grill him on Obama's foreign policy, including the president's strategy for combating Islamic State forces in Iraq and Syria and the war in Afghanistan.
"Have no doubt: ISIS is winning," McCain said Wednesday on CNN, using an acronym for Islamic State, which occupies parts of Iraq and Syria and declared a self-styled caliphate.
Assad's Air Force
McCain objected when Carter stopped short of advocating taking out the air force of Syrian President Bashar al-Assad to help Syrian rebels fighting both his regime and Islamic State.
"You really didn't respond, in all due respect, Dr. Carter, to sending young Syrians in, training them in Saudi Arabia and sending them into Syria to be barrel-bombed by Bashar Assad," McCain said. "The morality of that alone, much less the workability of it, is in contradiction to everything the United States ever stood or fought for."
Carter said rebel forces "need to be creating the conditions for the removal of Assad" that could occur "at the end of the road."
Asked by the committee what the defeat of Islamic State would look like, Carter said in a written response that the group "must no longer be a threat to Iraq, the region, the United States and our partners."
Wasteful Spending
Carter, in his opening remarks, pledged to stop cost overruns and other wasteful spending, even as he pleaded for relief from automatic federal budget cuts that will resume in October.
"The taxpayer cannot comprehend, let alone support, the defense budget when they read of cost overruns, lack of accounting and accountability, needless overhead, and the like," Carter said. "This must stop."
Carter, a former deputy defense secretary who would succeed the departing Chuck Hagel, said in the written response that the U.S. "is at the beginning of what could be a long campaign to degrade and inflict a lasting defeat" on Islamic State forces.
In opening remarks, McCain said Carter will face a difficult challenge because previous defense secretaries under Obama have complained of micromanagement by White House aides.
Carter, 60, spent more than two years as the Pentagon's No. 2 civilian official under former Defense Secretary Leon Panetta and then Hagel. He also served under Obama's first Pentagon chief, Robert Gates, as the military's top weapons buyer.
F-35 Jet
McCain, a frequent critic of Pentagon procurement strategies, cited soaring costs for weapons, in some cases for systems that were canceled after billions of dollars were spent.
Cost estimates for the $398.6 billion F-35 fighter jet, built by Lockheed Martin Corp., have climbed about 71 percent in inflation-adjusted dollars since the Pentagon signed an initial contract in 2001.
"Every company, state and city in the country has had to lean itself out in recent years, and it should be no different for the Pentagon," Carter said in his remarks.
He also echoed Obama's call to end the automatic budget cuts known as sequestration, which he said "introduces turbulence and uncertainty that are wasteful" and "conveys a misleadingly diminished picture of our power in the eyes of friends and foes alike."
Before it's here, it's on the Bloomberg Terminal.
LEARN MORE