California's Democratic Senators Want to End Most Vaccine Exemptions
The backlash to the measles outbreak builds.
by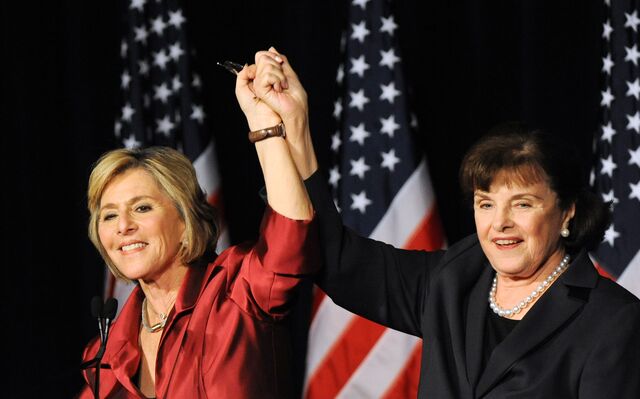 The first week of February may well be a turning point for political opposition to critics of vaccination. On Wednesday afternoon, California's senators released a letter they'd sent to the state's appointed Health and Human Services secretary in which they urged a change in personal exemptions to vaccines.
"California's current law allows two options for parents to opt out of vaccine requirements for school and daycare," wrote Democrats Barbara Boxer and Dianne Feinstein. "They must either make this decision with the aid of a health professional, or they can simply check a box claiming that they have religious objections to medical care. We think both options are flawed, and oppose even the notion of a medical professional assisting to waive a vaccine requirement unless there is a medical reason, such as an immune deficiency."
Their timing was perfect. In Sacramento, five reliable critics of the "anti-vax" movement announced new legislation to abolish the "personal belief" exemption. Dr. Richard Pan, a Democratic legislator who'd previously pushed a bill requiring the counseling of parents who wanted to opt out, appeared with colleagues and photogenic babies to unleash the new legislation.
The news hit critics of vaccine mandates like a flash-bang grenade. "Vaccines are pharmaceutical products that carry risks," said Barbara Loe Fisher, co-founder and president of the National Vaccine Information Center. "The conscientious belief exemption is very important. What's so dangerous about this approach, of no non-medical exemptions, or narrow exemptions accepted by the government, is that the makers of vaccines are shielded from liability. It becomes even more important to exercise voluntary, informed consent, because if we change these laws now and take a no-exemption approach, we're going to be forced into a position of taking every government-mandated and not have every recourse in a civil court to hold companies accountable."
The California Department of Public Health reported Monday that 92 measles cases have been confirmed in the state in the current outbreak of the disease that started in Disneyland. 
Before it's here, it's on the Bloomberg Terminal.
LEARN MORE