Scott Walker: Safety Net Has Become 'A Hammock'
Speaking to supporters, the Wisconsin governor says he's "worried about our country."
undefined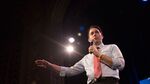 From the Des Moines Register:
In what sounded like a full-throttle campaign speech, Wisconsin's Scott Walker went on the attack against his presumptive rivals in the presidential race, telling Iowans on a conference call Monday night that the country needs a proven leader who can take on everyone from Washington liberals to terrorists.

"I'm worried about our country," Walker, the governor of Wisconsin, said during a tele-town hall organized by his political action committee, Our American Revival PAC, and moderated by Iowa GOP Chairman Jeff Kaufmann.

"I see a president who seems to feels success should be measured by how many people are dependent on the government," Walker said. Under Obama, government assistance has become less of a safety net and more of "a hammock," he said.
 Read more here. 
Before it's here, it's on the Bloomberg Terminal.
LEARN MORE