Hillary Clinton Joins 2016 Fray on Vaccines
A measles outbreak transforms into the 2016 issue du jour.
by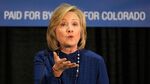 Former Secretary of State Hillary Clinton on Monday became the latest potential presidential candidate to weigh in on the merit of vaccines as a 14-state measles outbreak transformed into the 2016 issue du jour.
"The science is clear: The earth is round, the sky is blue, and #vaccineswork," Clinton wrote on Twitter. "Let's protect all our kids. #GrandmothersKnowBest."
It was an apparent rebuke to Chris Christie and Rand Paul, Republicans who each commented on the issue Monday and could rival Clinton for the presidency.
Christie, the governor of New Jersey, set off the frenzy when he said during his U.K. trade mission that "not every vaccine is created equal, and not every disease type is as great a public health threat as others." His office later sought to clarify, saying in a statement that "with a disease like measles there is no question kids should be vaccinated."
Paul, a Kentucky senator and ophthalmologist, took to CNBC to say: "I've heard of many tragic cases of walking, talking, normal children who wound up with profound mental disorders after vaccines. ... I'm not arguing vaccines are a bad idea. I think they're a good thing. But I think the parents should have some input."
Skepticism of vaccines' safety stems largely from a 1998 study linking the measles, mumps, and rubella immunization to autism. The study was later retracted and its conclusions debunked by further research.
Other likely Republican candidates have also chimed in. Ben Carson, a retired neurosurgeon, said in a statement that "we should not allow those diseases to return by foregoing safe immunization programs, for philosophical, religious or other reasons when we have the means to eradicate them." A spokesman for former Texas Governor Rick Perry, whose onetime support for mandatory HPV vaccines caused him political headaches, pointed to Perry's longtime backing of higher immunization rates. Former Hewlett-Packard CEO Carly Fiorina's spokesperson noted her recent comments that she thinks "vaccinating for measles makes a lot of sense, but that's me."
President Barack Obama and his administration have been urging parents to ensure their children are vaccinated in light of the measles outbreak. The episode has also turned the spotlight back to his and Clinton's comments on vaccines during their 2008 contest. At the time, Obama said that "the science right now is inconclusive, but we have to research it," and Clinton answered a questionnaire by writing, "I am committed to make investments to find the causes of autism, including possible environmental causes like vaccines."
Before it's here, it's on the Bloomberg Terminal.
LEARN MORE