Congressman: I 'Do Not Construe Homosexual Rights as Human Rights'
The New Jersey lawmaker challenges the Obama policy on gays.
by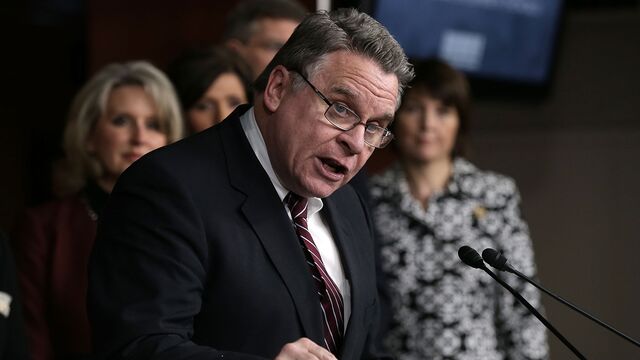 New Jersey Representative Christopher Smith is one of the GOP's social conservative stalwarts, the perennial author of pro-life bills written to prevent any taxpayer money from ever funding an abortion. He's a human rights campaigner; it was Smith who passed legislation that created a separate processing system for child migrants fleeing violence in Central America. Smith also chairs the House Foreign Affairs Africa, Global Health, Global Human Rights, and International Organizations Subcommittee, where on Jan. 27, at a hearing about crises in Nigeria, he informed the principal deputy assistant secretary in the State Department's Bureau of African Affairs that he had a distinct definition of "human rights."
"There are fundamental differences in the United States over the whole LGBT issue," said Smith to Robert Jackson, the deputy assistant secretary. "I am a strong believer in traditional marriage, and do not construe 'homosexual rights' as 'human rights.' Has the administration's view on LGBT affected in any way, or in any way hindered, U.S. support to combat Boko Haram?"
"To my knowledge, there has been no impact of the same-sex marriage bill on any of our activities," said Jackson.
"I know that's your reasoned opinion," said Smith, "but please get back to us if there's anything that contradicts that."
The hearing took place on a Tuesday afternoon, with members filing in and out, and it took a few days for committee member David Cicilline, a Rhode Island Democrat who is openly gay, to respond to Smith.
"I would like to address these comments and clarify that the official position of the U.S. government is: all people have basic human rights," said Cicilline. "Regardless of their race, sex, disability, age, political opinion, or religion, they are entitled to the very fundamental right to be themselves, free from persecution. This includes people who identify as lesbian, gay, bisexual, and transgender (LGBT)."
Smith wasn't quibbling with that. He disagreed with the definition, and worried that the policy of gay rights promotion, which began in 2011, might have been preventing the United States from working with less "progressive" Nigerian institutions. The Human Rights Campaign and other gay groups immediately condemned Smith, and noted that he said this the very same day that 12 Nigerians were arrested for attending a same-sex marriage. But for him, this was no gaffe.
Before it's here, it's on the Bloomberg Terminal.
LEARN MORE