Christie Keeps Quiet in U.K. a Day After Vaccine Comments
Benjamin Katz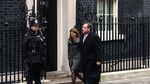 New Jersey's voluble Governor Chris Christie kept it terse on the third and final day of his U.K. trip, a day after his comments about vaccinations set off a clamor of dissent at home.
"Is there something you don't understand about no questions?" Christie, a potential Republican candidate for president, said Tuesday as reporters pursued him after he watched a theater rehearsal by Rutgers University exchange students. Aides directed reporters out of London's Globe Theatre, saying scheduled time for questions was canceled.
Christie, 52, sparked outrage from doctors and Democrats back in the U.S. on Monday when he said during the trade mission that parents "need to have some measure of choice" when deciding whether to vaccinate their children. His remarks contrasted with those by President Barack Obama, who urged people to get vaccinated amid a measles outbreak that's infected 102 people in 14 states.
The governor is meeting with U.K. political leaders and executives from Britain's pharmaceutical and financial-services industries. He has said this visit, his third foreign trip since September, is to cultivate a relationship between his state and its third-largest trading partner.
Walking Fast
Earlier Tuesday, emerging from 11 Downing Street following lunch with Chancellor of the Exchequer George Osborne, Christie walked past reporters and cameras, turning back to say only, "We had a lot of fun."
He also canceled a question session that had been scheduled after a trip to a transitional housing center for recovering drug addicts.
"We just decided we weren't having availabilities today," Maria Comella, Christie's deputy chief of staff for communications, said in the foyer of the Globe.
The trip comes after Christie formed a political action committee, a step toward entering the Republican primary for the 2016 presidential race.
During Christie's first term as governor, his calls for smaller government, employee-benefit cuts and lower taxes made him a national Republican figure.
In 2011, Christie turned down appeals from Republican leaders and donors, including Home Depot Inc. co-founder Kenneth G. Langone, to take on Democrat Obama in 2012. During Christie's 2013 re-election campaign for governor, he said his focus was on a second term, not a 2016 run, though he didn't rule it out.
Video Star
Christie's confrontations with detractors, often replayed on Google Inc.'s YouTube, helped propel him to prominence. He called Democratic lawmakers "numb nuts" and "jerk" and told reporters to "take the bat out" on a 76-year-old senator who was collecting a state-funded pension and paycheck.
Last year, he told a heckler to "sit down and shut up" during a ceremony commemorating Hurricane Sandy's second anniversary.
Christie's U.K. visit is the fourth foreign trip of his six-year administration. He traveled to Mexico last September and Canada in December, and to Israel in 2012.
On Monday, he met with life-science company chief executives and toured a research and development firm. After the tour, Christie was asked by reporters about his views on vaccinations. "Not every vaccine is created equal, and not every disease type is as great a public health threat as others," he said.
Christie's office later sought to clarify his remarks, saying in a statement that "the governor believes vaccines are an important public health protection and with a disease like measles there is no question kids should be vaccinated."
Before it's here, it's on the Bloomberg Terminal.
LEARN MORE