Social Media Savvy Rand Paul Debuts Liberty Football on Super Bowl Weekend
The Kentucky senator co-opted a decades old game for some self-promotion.
by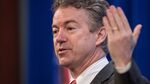 Say what you will about his chances of winning the Republican nomination for president, but Senator Rand Paul has certainly mastered the art of self-promotion. 
As nears what well could be the start of an upstart presidential campaign, Paul devised yet another way to keep his name in front of voters: paper footballs. Paul promoted the idea, in which the senator's supporters were directed to Paul's Facebook page, where they could print out an official "Rand 2016" paper football kit, one day before the Super Bowl. 

Paul's supporters reacted just as the prospective 2016 candidate had hoped, sharing pictures of themselves with their new paper footballs on social media, which Paul then re-tweeted and shared on his pages in a feedback loop of self-promotion.
Super Bowl Sunday is not the easiest day for a candidate to make positive headlines, but with his paper football gambit, Paul devised a way to keep being talked about. While the game of paper football has been played for decades, for those who have no idea what Paul is on about, here's a handy tutorial.
Before it's here, it's on the Bloomberg Terminal.
LEARN MORE