Republican Presidential Hopefuls at Odds Over Vaccination Issue
Not every prospective GOP candidate feels the same way about vaccinations.
by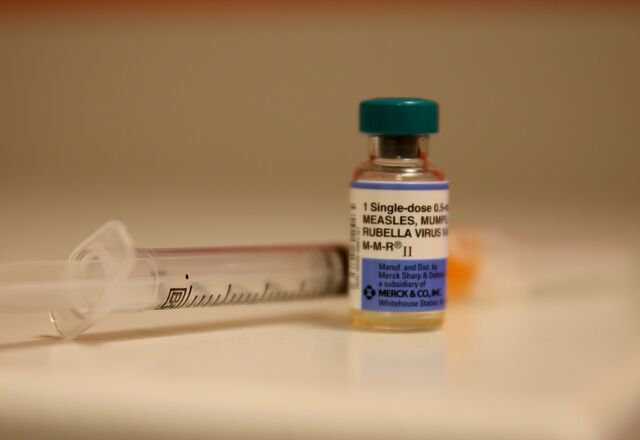 New Jersey Governor Chris Christie is attempting to walk back comments he made in England about the need for government to "balance" the rights of parents to refuse to vaccinate their children with public health concerns. But he isn't the only Republican navigating the political landscape of a thorny immunization issue.
On Monday, Rand Paul and Ben Carson, two physicians considering bids for the 2016 GOP presidential nomination, came down on seemingly opposite sides of a debate that pits public safety against personal freedoms.
"Although I strongly believe in individual rights and the rights of parents to raise their children as they see fit, I also recognize that public health and public safety are extremely important in our society," Carson, a well-known neurosurgeon and conservative speaker, wrote in an e-mailed statement to Bloomberg Politics. "Certain communicable diseases have been largely eradicated by immunization policies in this country and we should not allow those diseases to return by foregoing safe immunization programs, for philosophical, religious or other reasons when we have the means to eradicate them."
Carson's conclusion, closer to what President Obama has said on the subject than his likely GOP opponents, was not without a little wiggle room. "Obviously there are exceptional situations to virtually everything and we must have a mechanism whereby those can be heard," he said.
But Carson's position differed in tone to the arguments made on Monday by Senator Rand Paul, an ophthalmologist who is also expected to make a 2016 White House bid.
When asked about his philosophy toward immunizations on Laura Ingraham's radio show, Paul sided more in favor of parental discretion than government mandates.
"I'm not anti-vaccine at all," he said. "But particularly, most of them ought to be voluntary. What if you have someone not wanting to take the smallpox vaccine and it ruins it for everybody else? I think there are times where there can be some rules, but for the most part, it ought to be voluntary."
Speaking about his own family, the Kentucky eye doctor recalled discomfort with doctors who wanted to give his kids Hepatitis B shots in the hospital shortly after their births. "I didn't like them getting ten vaccines at once," he said, "so I actually delayed my kids' vaccines and had them staggered over time."
Paul, who eventually did fully immunize his children, also criticized former Texas Governor Rick Perry for a 2007 executive order that mandated children to get vaccinated for a sexually transmitted virus, HPV. Years later, Perry reversed course, calling that decision was a mistake.
Asked about Christie's comments on Monday, a Perry spokesman, Travis Considine, said the former Texas governor has long been an advocate for encouraging immunization.
"Governor Perry strongly believes in protecting life and has sought to improve the health and well-being of Texans in a variety of ways, including increased immunization rates," Considine wrote in an e-mail.
Paul was not the only possible 2016 candidate that seemed to reference the Texas vaccine controversy when asked about this issue. In lieu of a statement on Monday, a spokeswoman e-mailed remarks that businesswoman Carly Fiorina recently made to a BuzzFeed reporter.
"Look, I think parents have to make choices for their family and their children," Fiorina said. "But I think there's a big difference between—just in terms of the mountains of evidence we have—a vaccination for measles and a vaccination when a girl is 10 or 11 or 12 for cervical cancer just in case she's sexually active at 11. So I think it's hard to make a blanket statement about it. I certainly can understand a mother's concerns about vaccinating a 10 year old. I think vaccinating for measles makes a lot of sense. But that's me. I do think parents have to make those choices."
Apparently addressing a measles outbreak that has spanned more than a dozen states and prompted immunization recommendations from President Obama and other federal officials, Ms. Fiorina added: "I mean, I got measles as a kid. We used to all get measles... I got chicken pox, I got measles, I got mumps."
Several other potential 2016 candidates did not return requests for comment about their vaccinations views.
Before it's here, it's on the Bloomberg Terminal.
LEARN MORE