'No Question Kids Should Be Vaccinated' Against Measles, Christie's Office Says
The governor had called for "balance" as President Obama said "there is every reason to get vaccinated."
by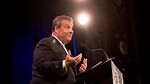 New Jersey Governor Chris Christie's office on Monday sought to clarify his comments on vaccines and parents' freedom, saying in a statement that "the governor believes vaccines are an important public health protection and with a disease like measles there is no question kids should be vaccinated."
On a trade mission to the U.K., the likely candidate for the Republican presidential nomination had caused a stir when he said that "not every vaccine is created equal, and not every disease type is as great a public health threat as others."
His comments came amid a measles outbreak that has touched 14 states and spurred President Barack Obama and Centers for Disease Control and Prevention director Tom Frieden to remind Americans the disease is preventable through vaccinations. "The science is, you know, pretty indisputable. We've looked at this again and again. There is every reason to get vaccinated, but there aren't reasons to not," Obama said in an interview airing Monday on NBC's Today. 
In his initial comments on Monday, Christie focused his comments on parental discretion. He said he and his wife, Mary Pat, have had their children vaccinated.
"It's much more important, I think, what you think as a parent then what you think as a public official," he said. "But I also understand that parents need to have some measure of choice in things as well. So that's the balance that the government has to decide."
"I didn't say I'm leaving people the option, what I'm saying is that you have to have that balance in considering parental concerns because no parent cares about anything more than they care about protecting their own child's health," he continued. "And so we have to have that conversation. But that has to move and shift, in my view, from disease type. Not every vaccine is created equal, and not every disease type is as great a public health threat as others."
"Different disease types can be more lethal, so that the concern would be measuring whatever the perceived danger is by a vaccine, and we've had plenty of that over a period of time, versus what the risk to public health is, and you have to have that balance," he said.
In the statement later e-mailed by spokesman Kevin Roberts, Christie's office said that while "there is no question kids should be vaccinated," "at the same time different states require different degrees of vaccination, which is why he was calling for balance in which ones government should mandate."
Benjamin Katz in the U.K. contributed to this report. 
Before it's here, it's on the Bloomberg Terminal.
LEARN MORE