Fighting the Living-Room War with the 'Draft Warren' Movement
Can love conquer Hillary? We are about to find out.
by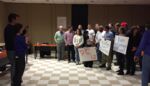 By MoveOn's count, and after a generous amount of hype and scrutiny, progressives gathered on Super Bowl weekend at 219 house parties* around the country to draft Massachusetts Senator Elizabeth Warren into the presidential race. The parties happened on Saturday and Sunday, and if attendees were savvy enough to tweet photos of the proceedings, they got retweets from MoveOn's mothership.
Just before 2 p.m. on Sunday, I sought out the only Draft Warren party happening in Washington, D.C. The helpful, open group-starting widget had reported it as "closed," after 70 people RSVP'd. Down an elevator, past a row of Black History Month-appropriate paintings, there was the room, with two organizers putting out Super Bowl-appropriate snacks–pita chips, spinach dip, crudités. On one wall, posterboard announced the agenda; on another, Warren's current stump spiel about a "plan to restore the middle class" was repackaged as a list.

By 2:05 p.m., just 13 people had shown up, along with three reporters (myself included) to record their brainstorms. By 2:30, the number had swelled to 20, where it would stay. As would-be Warren campaigners introduced themselves, the elephant in the room was that the room had enough empty space to fit an elephant. "It said the event was closed, and that was a bit of a missed opportunity, I think," said Tom Hunter, a 59-year old who'd knocked on doors for the Obama-Biden campaigns. "I almost didn't come."
Jim McBride, a 40-year old Democratic activist with many meet-ups in his past, tried to draw a lesson from the sparse crowd. "By the way, the official capacity of this room is 35, but the actual capacity was like, 100," he said. "It's good to remember that if you ever host events, about half the people who RSVP are gonna show up."
That got a nod from Louisa Abbott Galvo, the 27-year old organizer with Friends of the Earth who was co-hosting the event. The Warren meet-up did not have to meet Prussian efficiency standards. It existed; it would prove that Hillary Clinton was not walking into the Democratic nomination with no pressure from her left. "Between now and about June is a time when we want to make a lot of noise in DC," said Galvo. "The Koch brothers recently announced they're gonna spend $889 million on the next presidential election. That's what we're up against."
Of the 20 people who'd shown up, most were white, half were female. They came with a set of rich, complementary theories of the Democratic Party's problems. "I've been closely studying the 1880s," said Steve Ackerman, a 67-year old writer of popular history. "It's struck me that we're going back to the worst of that period -- and that's scary. In those days, big interests could buy a senator because they'd bought the state legislators that elected him." He was interested in Warren because she was "the only one saying anything about this."
One by one, the activists introduced themselves and talked for two hours, with nobody repeating a reason to back Warren. "Dynasty politics" came up as a reason to oppose Hillary Clinton. Barack Obama's failure to "tap Warren for higher office" came up, too. (Obama had given up on appointing her to run the Consumer Finance Protection Bureau after threats of a Republican filibuster.) Introductions made, the group turned to a TV set to watch three video messages–two from MoveOn, one from actor Mark Ruffalo.
"I really wanted to be there," said Ruffalo, apologizing for shooting a movie instead. "I'm there in spirit, I'm happy to be a part of this event in the electric way that I can be... just think of the carbon we're saving with me not being there!"
MoveOn's in-house videos all but declared that Warren could run and win. (Its main video, infamously, ends with Warren appearing to pause when asked if she's running for president. It cuts before her answer–"no.") Ruffalo's message ended with some realism: "If she doesn't win the primary, she will at least push the conversation." Member by member, the DC Warren group differed on whether this was about beating Hillary or changing Hillary.
Hillary campaign veteran Gary Ritterstein, who introduced himself as a communications consultant for the Ready for Warren group, split the difference. Warren, he said, could "make the difference not only for the Democratic Party winning the election but for every family I've met on the campaign trail." Moments later, Mike Snow, a journalist who wanted to stay neutral, blistered Clinton for giving a talk to Monsanto and undermining opponents of genetically modified foods.
"She actually coached these people!" he said. "This is something that's probably going to destroy our health over the long term."
But Snow was the only one who went after Clinton on a specific policy. Some veterans of the 2008 Obama campaign briefly discussed how the Clinton campaign, with its "massive headquarters" looming down on them, tried to undermine them, booking halls and venues out from under them, but there was no dwelling on it. Calmly, deliberately, the 20 activists and the two organizers stopped the discussion from digressing into too much anti-Clintonalia.
"Don't get me wrong, I can't stand Hillary," offered Dan Dudis, a 34-year old activist wearing a Warren 2016 shirt. "I think she's everything wrong with politics. But going after Hillary is not really the point at this stage. The point is to get people interested... once they hear about Warren, to know her is to love her." 
Still: How to do that? How to make sure that voters got to know her? The discussion centered on rallies that might make sense for President's Day, whether to do them at the White House—"the president's house"—or at a mall, where activists could brand Warren as a "not for sale" candidate.
"What about focusing on the positive?" asked Zephyr Williams, a 29-year old student at American University. "What kind of qualities are presidential? What kind of qualities would I want from the president of a Democratic country? There could be a checklist."
Galvo was on board with that. "We could have check marks, and then you see that Elizabeth checks all of them," she said.
Again and again, any burbling anti-Clinton sentiment was tamped down in favor of something positive. Snow, who kept urging the group to think aggressively, asked them to consider how Warren fit into the history of president leading America in wartime.
"The biggest threat these days is not World War I, it's not the Civil War– it's the war on democracy," he said.
"We keep talking about war on this, war on that," said Ann Laroche, a 69-year old activist who volunteered to help the homeless. "We've got to get away from that. They've not been successful."
Paul Wagner, a younger activist who'd volunteered for Obama twice, pushed back a little. The "fight" theme was a Warren favorite, from her speeches to the title of her latest book. "The common theme is the fight for equality," he argued. "It was the fight for representation in the revolution, it was the fight for civil rights, and now it's the fight against income inequality."
This discussion, which helped the group settle on some themes for the President's Day event, underscored what did and didn't move activists toward Warren. Foreign policy never came up, not even in the context of Hillary Clinton's tenure in the State Department or her vote for the Iraq War. The Keystone XL pipeline came up only briefly, in a wry reference to Clinton refusing to take a position on it. Nobody mentioned any of the possible 2016 Republican nominees, only that Republicans were probably playing a Br'er Rabbit game by claiming that they preferred to run against Warren. The old Phil Spector phrase phrase deployed by Dudis kept coming up: "To know her is to love her."
The meeting ended with a pledge to hold more meetings, every other Sunday, building out the event schedule. Those in college were encouraged to find converts among the campus Democrats. The students and the other dozen activists were invited to join McBride's own meet-and-greet, to recapture what worked for the campaign that drafted Warren into the Massachusetts Senate race and helped Barack Obama demolish Hillary Clinton in the 2008 DC and Virginia primaries.
"It's a $5 cover," warned McBride, "but it's open bar, and you'll meet good people."
*The website connected people with 219 house parties. In a Monday e-mail, MoveOn referred to "more than 220" parties.
Before it's here, it's on the Bloomberg Terminal.
LEARN MORE