Cuomo Calls for Lawmakers to Disclose Outside Income
Freeman Klopott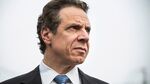 New York Governor Andrew Cuomo called for lawmakers to disclose all outside income, threatening to shut down the government if they refuse to approve his proposed ethics changes in the next budget.
Cuomo, speaking at New York University Law School in Manhattan Monday, said he expected that his demands would mean the end of a streak of four consecutive on-time spending plans as lawmakers resist the proposals. The speech followed the Jan. 22 arrest of Assembly Speaker Sheldon Silver, who was accused by federal prosecutors of using his power to gain millions of dollars in undeserved legal-referral fees.
"It's more important to me to prove that we have corrected the problem, that we have restored the trust, than just check a box that we got a budget done on-time," Cuomo said of the spending plan for the year that starts April 1. "I will not sign a budget that does not have an ethics plan as outlined in my proposal."
Cuomo also proposed a constitutional amendment to require state officials convicted of public corruption to forfeit their pensions, public financing of election campaigns and stronger rules on donor disclosure. Under current rules, lawmakers are required to list a range of income, without providing details of how they earned it.
The speech by Cuomo, a 57-year-old Democrat, comes at a critical juncture. Silver, who ruled the state Assembly as speaker for 21 years, is resigning Monday. Manhattan U.S. Attorney Preet Bharara said Silver's arrest is evidence that Albany's culture of secrecy and lack of accountability inspires a "caldron of corruption," which many interpreted as a slap at the governor. Newspaper editorial boards, including the New York Times, said Cuomo must do more to lead the state out of its ethical morass.
Albany Cleanup
Upon taking office in 2011, Cuomo said he'd clean up Albany after Comptroller Alan Hevesi pleaded guilty in 2010 to approving a $250 million pension investment in exchange for a $1 million kickback, Governor Eliot Spitzer resigned amid a prostitution scandal and Senate Majority Leader Joe Bruno was accused of taking a bribe. Bruno was later exonerated.
On Jan. 22, Bharara arrested Silver as a federal criminal complaint was unveiled accusing him of running two separate kickback schemes for 15 years, netting as much as $6 million. Silver says he'll be exonerated and is resigning from speaker at 11:59 p.m. Monday.
Cuomo's decision to shut down an anti-corruption panel last year as part of budget negotiations led to Bharara's investigation.
Before it's here, it's on the Bloomberg Terminal.
LEARN MORE