The Other Goal in Obama's Budget: Dividing Republicans
Mike Dorning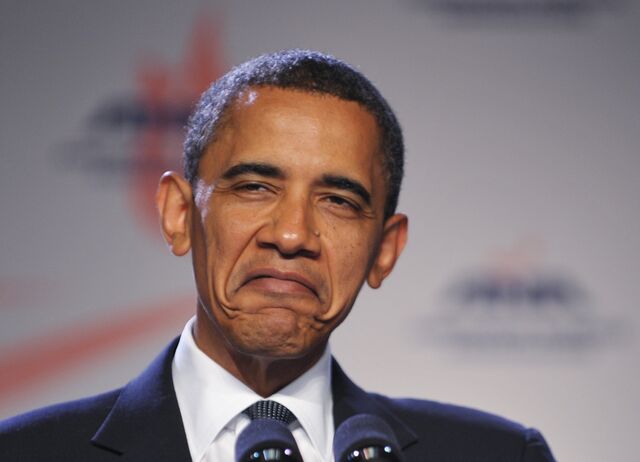 President Barack Obama's $4 trillion budget plan lays out a wish list for populist Democrats, but it also does something more subtle: It tries to drive a wedge between Republicans on taxes and spending.
Obama proposes busting defense spending caps with $38 billion in new money, matched with a similar amount in new domestic funding. That could pit Republican defense hawks like Senator John McCain of Arizona against budget hawks like Senator Ted Cruz of Texas, a Tea Party favorite.
Even Obama's plan for new corporate taxes on overseas profits puts two of the party's most powerful interests in conflict: U.S. companies with foreign earnings versus the Chamber of Commerce, which has been pushing for a new way to pay for infrastructure projects. Obama's tax proposal puts $478 billion toward roads, bridges and other projects over six years.
The U.S. needs "to replace mindless austerity with smart investments that strengthen America," Obama said Monday after releasing his proposed budget.
Republican leaders such as House Speaker John Boehner of Ohio and Senate Majority Leader Mitch McConnell of Kentucky already have enough trouble keeping their restive caucuses united. If Obama can attract some Republicans in each chamber to his plans to boost spending -- which for many lawmakers is popular at home -- that could set off even more intraparty fights that have split Republicans in the past.
'Incremental' Progress
It's a tricky task for Obama, and he can hope for only "incremental at best" progress toward the ambitions contained in his budget under the Republican-controlled Congress, said Stan Collender, a former Democratic congressional aide. The president could try to leverage the opposition party's wish for more defense money to raise spending limits known as sequestration, he said.
"I'd be willing to bet one way or another that the sequester caps will be raised," said Collender, now executive vice president at Qorvis MSL Group, a communications strategy firm in Washington.
While infrastructure spending appeals to some Republicans, they aren't likely to agree to anything that can be portrayed as a tax increase to pay for it or they could lose support from party activists before the 2016 elections, he said.
Senator John Thune, a South Dakota Republican, acknowledged that the infrastructure and defense spending increases offer "some appeal to some Republicans" though he didn't give a prognosis for passage.
Conflicting Views
"It's an attempt to triangulate, if you will" between the conflicting views in the party, Thune said of the president's plan to boost discretionary spending for the Pentagon and domestic programs.
Obama's appeal to Republican defense hawks has a greater chance of succeeding this year than at any time since the president and Congress agreed to the budget caps in 2011, said Steve Bell, a former Republican budget aide. That's because of rising concern about international instability among party leaders amid the rise of Islamic State militants, turmoil in Yemen, Russia's intervention in the Ukraine, and Chinese assertiveness in the South China Sea.
"Things are deteriorating overseas, and I think the case will be made by both armed services committees," said Bell, now senior director of economic policy at the Bipartisan Policy Center in Washington.
Defense Hawks
House Armed Services Committee Chairman Mac Thornberry, a Texas Republican, said in an interview with Politico last month that he'd be "open to any solution that would fix sequestration," including a tax increase. The ranks of Republican defense hawks in the Senate have also increased with the election of military veterans such as Tom Cotton of Arkansas and Joni Ernst of Iowa, Bell said.
Obama's budget release completes a weeks-long rollout of an agenda that would raise taxes on investors, heirs and financial companies so the government could ease the cost of college education and child care for middle-income and poor families.
Centerpiece proposals such as free community college tuition for most Americans, universal access to pre-school, paid sick and family leave for most workers, and ramped-up tax credits for child care hold little appeal to the Republican majorities in Congress.
Election Debate
They serve more to elevate ideas within the Democratic Party and shape the debate in the 2016 presidential election. Even potential Republican presidential candidates are taking up the cause of income inequality.
"This is mostly a political document designed to help Democrats in 2016," Collender said.
The budget would increase federal spending by 6.4 percent in 2016 to $3.99 trillion. The deficit would drop to $474 billion, representing 2.5 percent of gross domestic product, a level that many economists regard as sustainable, down from a projected 3.2 percent of GDP this year.
There's more revenue to pay for spending as job creation brings in more tax collections and the economy keeps expanding. The administration projects growth in the current year will average 3.1 percent, in line with private forecasts.
Obama would shift more tax burden onto the wealthy with an increase in the top rate on capital gains and dividends to 28 percent from 23.8 percent. He would impose levies on asset transfers at death, closing what the White House calls "the largest capital gains loophole" in the tax code.
Investors Gain
While wages have been slow to rise in the six years that the economy has been recovering, investors have made extraordinary gains during Obama's presidency. The benchmark Standard & Poor's 500 index up 135 percent since he took office.
Republicans derided the central bargain enshrined in the budget proposal as "envy economics" as Representative Paul Ryan of Wisconsin characterized it on NBC's "Meet the Press" on Sunday. "This top-down redistribution doesn't work," Ryan, chairman of the House Ways and Means Committee, said.
Obama would pay for his infrastructure plan by applying a 14 percent tax to corporate profits that are parked outside the country, a provision that would especially hit drug and technology companies.
Obama's corporate tax plan, which creates a narrow opening to talk about a business tax overhaul with Republicans, includes a 19 percent levy on future foreign earnings for U.S. companies. The administration is no longer insisting that overseas profits be taxed at the 35 percent top U.S. corporate rate.
Obama and Congress must agree on spending levels and how to allocate money among federal agencies in order to keep the government running past the start of the fiscal year on Oct. 1.
Before it's here, it's on the Bloomberg Terminal.
LEARN MORE