A Closer Look at President Obama's Anti-Vaxxer Moment
The president didn't pander as much as many have claimed.
by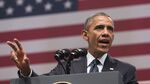 As the Great Vaccine Debate of 2015 boiled over, some conservatives rose up to protest a double standard. Why were people like Chris Christie and Rand Paul being pilloried for suggesting that parents could choose whether or not to give their kids some vaccines? Why, when in 2008 every major presidential candidate—Barack Obama, John McCain, and Hillary Clinton—raised some vaccine doubts? A typical comment went like this:
The story of Obama's comments, in particular, got around. In Vox, Sarah Kliff went so far to say that the future president "pandered to anti-vaxxers" when he said this:
We've seen just a skyrocketing autism rate. Some people are suspicious that it's connected to the vaccines. This person included. The science right now is inconclusive, but we have to research it.
By the end of the day, video of that Obama quote had been excavated by the conservative PAC American Commitment—and it was a unicorn-rare incident of an oppo team coming up with something that made its target look a little better.
First, when Obama said "this person included," he was pointing to the questioner, and not referring to himself. (The crowd around him chuckled at "this person.") Second, as he continued, he made a fundamentally Obama-ian swing back towards neutrality.
The science right now is inconclusive, but we have to research it. Part of the reason I think it's very important to research it is those vaccines are also preventing huge numbers of deaths among children and preventing debilitating illnesses like polio. And so we can't afford to junk our vaccine system. We've got to figure out why is it that this is happening so that we are starting to see a more normal, what was a normal, rate of autism.
Obama isn't exonerated in that clip. This comment still skates closer to the autism/vaccine theory than Christie's. (Not as close as the second comment Rand Paul made today.) And a source who worked for the campaign on health policy tells me that he complained about Obama's answer, at the time. He consoled himself by seeing it as the candidate trying not to upset a parent who was worried about her kid. Plenty of people who read up on vaccines and the nascent "anti-vaxxer" movement would have handled that moment differently. Obama whiffed.
The question is really whether a candidate in 2015 can be excused when he executes a similar face-plant. Obama made his remarks before the final demolishing of Andrew Wakefield's fraudulent study that inspired the "anti-vaxxer" movement. That demolishing is now four years old.
Before it's here, it's on the Bloomberg Terminal.
LEARN MORE