Walker Surging in Iowa Poll as Bush Struggles
Hillary Clinton is running away from the potential Democratic field.
by and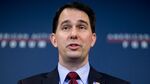 Wisconsin Governor Scott Walker is surging, former Florida Governor Jeb Bush is an also-ran and former Secretary of State Hillary Clinton is dominating in a new poll of Iowans likely to vote in the nation's first presidential nominating contest.
The Bloomberg Politics/Des Moines Register Iowa Poll, taken Monday through Thursday, shows Walker leading a wide-open Republican race with 15 percent, up from just 4 percent in the same poll in October. Senator Rand Paul of Kentucky was at 14 percent and former Arkansas Governor Mike Huckabee, who won the Iowa caucuses in 2008, stood at 10 percent.
Bush trailed with 8 percent and increasingly is viewed negatively by likely Republican caucus-goers. New Jersey Governor Chris Christie is in even worse shape, with support from just 4 percent. More troubling for Christie: He's viewed unfavorably by 54 percent, among the highest negative ratings in the potential field. At 9 percent, retired neurosurgeon Ben Carson pulls more support than either Bush or Christie.

On the Democratic side, the race among potential candidates isn't competitive. Clinton was the first choice of 56 percent. Senator Elizabeth Warren of Massachusetts, who has repeatedly said she isn't running, stands second at 16 percent. Vice President Joe Biden had only about half as much support as Warren, with 9 percent.
The poll was taken before Mitt Romney's Friday announcement that he wouldn't make a third White House bid. He received the backing of 13 percent of likely Republican caucus participants, ranking third. When his supporters are re-allocated to their second choice, Walker's backing grows to 16 percent, followed by 15 percent for Paul, 13 percent for Huckabee, and 10 percent for Carson. Removing Romney from his third-place spot had no effect on the ranking order of the other top potential candidates and offered the biggest boost to Huckabee. Bush's overall number inched up just one point, to 9 percent.
Walker's bounce came on the strength of his speech last weekend at the Iowa Freedom Summit, a gathering of more than 1,200 social conservatives in Des Moines. The two-term governor, often criticized as a dull speaker, captivated the crowd with a vivid account of threats to his family four years ago during his fight with organized labor, and his efforts to push tax cuts and anti-abortion policies.
The survey was taken just as Walker was basking in the positive coverage of that speech, and as he announced the formation of a committee to help him explore a potential presidential bid. Whether he can continue to grow in popularity on the national stage and as he receives more scrutiny remains unknown.
The speech sold poll participant Kirk Lundberg, who lives in Hudson, Iowa. The 58-year-old construction project manager said he became a Walker fan after hearing last weekend's address on the radio.
"I was impressed," Lundberg said. "He's somebody that is true to his word and will stand by his convictions. It's going to take someone who is a strong conservative to win."
Walker's favorability rating has jumped to 60 percent, up 11 percentage points since the October Iowa Poll of likely caucus participants. His proximity to Iowa may also be boosting him; his biggest poll lead came from the state's 1st Congressional District, which borders Wisconsin.
"A majority think he's got the right balance between conservative and moderate," said J. Ann Selzer, president of West Des Moines-based Selzer & Co., which conducted the poll. "Caucus-goers deciding on the basis of a candidate's values put him in second place, and he's in first place with those who say electability is more important."
Rounding out the rest of the potential Republican field, Senator Ted Cruz of Texas scored 5 percent, 2012 Iowa caucuses winner Rick Santorum was at 4 percent, Senator Marco Rubio of Florida and former Texas Governor Rick Perry were at 3 percent, Louisiana Governor Bobby Jindal was at 2 percent, and businesswoman Carly Fiorina, Ohio Governor John Kasich, and businessman Donald Trump were all at 1 percent. Indiana Governor Mike Pence was not the first or second choice of any respondent.
Iowans are still getting to know Walker, who pledged last weekend to return to their state "many more times in the future." More than a quarter of likely Republican caucus participants say they don't know enough about him to form an opinion.
"I like what he did to Wisconsin, and I think he'd be great at getting rid of a bunch of stuff that the government is doing to us," said Kerri Vaughn, a carpenter from western Iowa who has followed Walker's career mostly on Fox News. "He seems like he means what he says, and does what he says and is an honorable man."
The poll, which has a margin of error of plus or minus 4.9 percentage points for both Democratic and Republican caucus-goers, shows there's plenty of potential uncertainty in Iowa. Six in 10 likely Republican voters say a candidate's values are more important than electability.
The results suggest Bush, the son and brother of former presidents, faces a challenge in the heartland, even if he's an East Coast Republican establishment's darling. His favorability rating in the poll was 46 percent, not much higher than the 43 percent who view him unfavorably.
"I'm not excited about him," said poll participant William Kayser, 86, a property appraiser in Decorah, Iowa. "The Bushes have been so decimated in the media that he doesn't have a chance."
So far, Bush has avoided Iowa, a state that has a history of rewarding candidates who are more socially conservative. He hasn't been to the state since October 2012 and that could be hurting his numbers there. 
In recent weeks, Bush has called Iowa Governor Terry Branstad and other state party leaders, an indication he isn't likely to bypass the state should he run. On Thursday, he also signed on Iowa native David Kochel, Romney's top 2012 strategist in the state, to run his national campaign-in-waiting.
Bush's brother, George W. Bush, won Iowa's caucuses in 2000, propelling him toward the nomination and White House. His father, George H.W. Bush, took first place in the caucuses in 1980 before losing the nomination race to Ronald Reagan. As vice president, George H.W. Bush took third place in the 1988 caucuses and won the presidency.
Half of Republican poll participants say Bush's family connections are his greatest potential strength, while 19 percent cite unique qualities and achievements and another 19 percent list his policies and vision for the country.
"I like how he handled things in Florida. I know a lot of conservatives don't look at him as a conservative, but I believe he is," said Mark Shepherd, 44, a sheriff's deputy in Dallas County, west of Des Moines. "The Bush name seems to haunt him, but I think the best one is yet to come."
At 62 percent, Perry scores the highest for "about right" on ideology, although that's hasn't helped his overall standing. Christie is viewed as "too moderate" by 46 percent, while 37 percent say that of Bush.
Paul, who like Walker also improved his standing since October, is the top candidate among those Republicans seeking an "anti-establishment" candidate, followed closely by Walker. Among those who say values are more important than electability, Paul also comes out on top.
"I don't think [Paul] is a typical Washington, look-at-me politician," said Kristen Schlapkohl, 32, an office manager at a mechanic's shop in eastern Iowa. "He's a little different from the rest of the establishment and seems to look at things in a different way."
Schlapkohl said she also likes that Paul doesn't place as much emphasis on social issues. "As a conservative, I worry about the safety of our country from terrorism and fiscal irresponsibility and the expansion of different welfare programs and not so much about gay marriage or arresting every single person who has an ounce of marijuana," she said.

The survey questioned 401 likely Democratic caucus-goers and 402 likely Republican participants. A narrow majority of the Republicans—51 percent—say the next president should be an anti-establishment candidate without many ties to Washington or Wall Street who could challenge conventional thinking. Among Democrats, 57 percent prefer someone who would offer a "mainstream establishment candidate with executive experience who understands business."
Likely Democratic caucus-goers say Clinton would be a formidable candidate: More than half of Democrats say they want a presidential candidate with experience on issues (compared to just 27 percent of Republicans). She's viewed favorably by 84 percent of likely caucus participants, up 8 percentage points since October.
Few see any problem with the fact that Clinton came in third in the state's 2008 nominating contest or that, as the wife of a former president, people may have grown tired of her. More than half say her ties to big banks on Wall Street aren't an issue.
After Clinton, Warren, and Biden, the level of support for other potential Democratic candidates falls off. Senator Bernie Sanders of Vermont receives 5 percent, former Senator Jim Webb of Virginia gets 3 percent, and former Maryland Governor Martin O'Malley receives just 1 percent.
More from the Bloomberg Politics/Des Moines Register Iowa Poll
Before it's here, it's on the Bloomberg Terminal.
LEARN MORE