Scott Walker is Out of Mitt's Shadow—But Staying In the Spotlight Is A Challenge
In a D.C. speech, the Wisconsin governor expands his presidential case.
by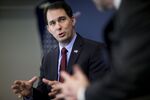 Wisconsin Governor Scott Walker was the breakout star of last weekend's Iowa Faith and Freedom Summit, elbowing aside bigger names like Mitt Romney and Jeb Bush to seize the 2016 Republican presidential spotlight. Walker had hoped to keep the spotlight by delivering a big speech in Washington on Friday. Instead, Romney seized it back.
When he took the podium at the American Action Forum, Walker chose not to acknowledge the news that Romney, a major rival for the nomination, had bowed out of the race. Instead, he sketched out for the audience at the conservative think tank his vision of what post-Romney Republican politics might look like. Spoiler alert: It looks a lot like the old politics, but with a different guy at the top of the ticket. Walker touted a Wisconsin-centric, meat-and-potatoes, small-government conservatism garnished with a heaping portion of scorn for Washington, D.C. "As much as I love coming here, I love going home even more," Walker said, calling Washington "68 square miles surrounded by reality."
Walker mostly avoided such hot-button issues as gay marriage, immigration reform, and education standards, which some of his fellow Republican hopefuls have used to distinguish themselves or to lambaste potential rivals for the nomination. He also didn't go out of his way to attack Barack Obama or Hillary Clinton. Instead, he presented his own battles with Wisconsin's public employee unions as offering a kind of third-way approach to what he called the "false choice" of raising taxes or cutting services. In Wisconsin, he emphasized, this approach has yielded balanced budgets and low unemployment (5.2 percent). Washington, he suggested, would do well to heed his example.
"What I see here under this administration," he said, "is a kind of this top-down, government-knows-best, tired old approach that hasn't worked in the past and I don't think will work in the future. And what I see in the states and from the people of this country outside of Washington is a craving for something new, for something fresh, for something dynamic."
What Walker was getting at, of course, was that the fresh face the country is seeking just may be his own. In this way, he echoed Romney's call for "our next generation of Republican leaders" to step forward and reached for the baton.
As one of more than a dozen Republicans with a plausible shot at the nomination, Walker is well aware that he must fill in his national profile. He got an assist from Fred Malek, the former Richard Nixon official and founder of the American Action Forum, who lobbed batting-practice softballs that allowed Walker to talk about his faith, his family, and his limited foreign policy experience.
Walker seemed particularly intent on guarding against the idea that a Midwestern governor might lack sufficient national security expertise to plausibly occupy the White House. Malek had his back. "You command the [Wisconsin] National Guard," he told Walker. "I wondered if you might want to comment on how you feel about the threat posed by ISIS and other entities abroad?" 
It turned out Walker did. "That's a great question," he replied. "You know, the interesting thing with that is, as a governor, not only do I and the other governors, the commanders in chief of our National Guard at the state level, which is a distinct honor and privilege … as a part of that, my adjutant general that I have in the Wisconsin National Guard is also my chief homeland security adviser. And on a fairly frequent basis he, along with members of the FBI, gives me and I presume other governors security threat assessments. So we go and get classified information—important confidential information—about threats not only to our state but typically within our region and across the country. Without violating the terms of any of those specifically, I just gotta tell you that for my children and others like them, I see on an ongoing basis legitimate concerns about the threat to national security, state by state and across this country. And it's one of the reasons why I've said repeatedly, one of the most important things we need out of our leaders in Washington, particularly our commander in chief, is leadership."
Walker didn't elaborate on his strategy to defeat ISIS, and his adjutant general wasn't available to ask. Nor did he elaborate on anything else. After his speech and discussion with Malek, he ignored the throng of reporters and cameramen who managed to shout out just a single question: How did he feel about the news that Romney wasn't running? Walker may have been peeved that Romney stepped on his speech. Or maybe his dislike of Washington extends to the press corps. In any event, there's no doubt that he's running: He shot out the door faster than Usain Bolt without offering any comment.
Before it's here, it's on the Bloomberg Terminal.
LEARN MORE