New Iowa Poll: Romney Would Have Faced Many Campaign Hurdles
The 2012 nominee compared favorably to Jeb Bush on some issues, but many Iowa Republicans thought his time had passed.
by and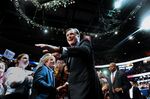 Mitt Romney would have faced numerous challenges in the presidential nomination lead-off state of Iowa if he had decided to enter the 2016 presidential contest, a new Bloomberg Politics/Des Moines Register Iowa Poll shows.
Forty percent of Republicans likely to participate in the 2016 Iowa caucuses view Romney unfavorably, up from 30 percent in a similar October survey, while his approval rating dropped to 57 percent from 65 percent. Likely caucus-goers were also skeptical about their party's 2012 nominee potentially entering the race. Nearly half–45 percent–didn't want him to do so.
The survey of 402 likely Republican caucus participants was taken before Romney's announcement. Full results will be reported starting this weekend.
"It's the right decision," said poll participant Ken Keenan, 50, a corporate recruiter from Des Moines. " He doesn't really understand income inequality even though he's talking about it now. He's a lame duck." 

Keenan said he'd like to see other Republican hopefuls such as former Florida Governor Jeb Bush and New Jersey Governor Chris Christie take their cue from Romney: Figure out whether they're viable, and if they're not, get out of the race. 
In a question comparing Romney with Bush, the 2012 nominee was viewed as a stronger candidate for beating potential Democratic nominee Hillary Clinton, understanding average people, having a vision for the future, creating jobs and combating terrorism. His biggest advantage was on creating jobs, where 58 percent gave him the edge compared to 14 percent for Bush. His next biggest lead was on having a vision for the future, where Romney won 49 percent and Bush received 22 percent.

Romney's strength on those questions is partly a reflection of the fact that he's better known in Iowa than Bush, who hasn't been to the state since October 2012. Romney finished a close second in the 2012 caucuses and also campaigned extensively in Iowa in 2008, when he finished second.
The former Massachusetts governor would have carried plenty of baggage, if he'd decided to venture back into presidential campaigning. Twenty-seven percent of likely caucus participants said the fact that he lost by a wide margin in 2012 was a deal-killer for them, while another 27 percent said it was a factor they'd consider. 
Testing other potential vulnerabilities, Romney's ties to Wall Street could have again proven to have been a problem for the former private equity executive, even among Republicans. Sixteen percent of likely caucus-goers said Romney would be eliminated from their list if it were shown that he is "part of the Wall Street elite and favors looser regulations on banks."
Poll participant Michael Zickuhr, 51, a retired Marine and out-of-work construction worker, said Romney's decision is a disappointment. He thought his previous bids would have made him a stronger candidate this time and also potentially block Bush from dominating the field.
While Zickuhr has some nice things to say about Bush, his favorite prospective candidate is Senator Marco Rubio of Florida. He said he's concerned that Romney's decision may consolidate enough early donors around Bush that it undercuts Rubio and others. "I think it could help Jeb kind of walk through the door," he said.
The Iowa Poll was conducted Monday through Thursday by Selzer & Company, a Des Moines-based firm, and has a margin of error of 4.9 percentage points. Here is the full methodology.
Before it's here, it's on the Bloomberg Terminal.
LEARN MORE