Rand Paul Lashes Out At Common Core, 2016 Rivals in Fundraising E-mail
Bush, Walker, Huckabee, and Christie are "prominent backers," he says.
by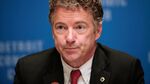 Senator Rand Paul on Thursday took shots at Common Core education standards and potential 2016 rivals in an aggressive fundraising e-mail from his political-action committee. 
With the subject line "Rotten to the core," the Kentucky Republican criticized the education standards as containing "anti-American propaganda, revisionist history that ignores the faith of our Founders and data-tracking of students from kindergarten on."
The e-mail called out other potential White House candidates by name, including former Florida Governor Jeb Bush, former Arkansas Governor Mike Huckabee, Wisconsin Governor Scott Walker, and New Jersey Governor Chris Christie, as "prominent backers" of the plan.
This is just the latest online volley from Paul as the 2016 field takes shape. He has also taken aim at 2012 nominee Mitt Romney, depicting him and fellow establishment Republican Bush as buddies on the Common Core issue.
Before it's here, it's on the Bloomberg Terminal.
LEARN MORE