Huckabee Suggests Pathway to Citizenship for DREAMers
"I don't believe that it is a just thing to punish someone who had nothing to do with the breaking of the law," he says.
by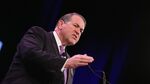 Likely presidential candidate Mike Huckabee for the second time this week suggested that immigrants who came to the U.S. illegally as children should be cut some slack.
The Republican's comments, coming as he continued to criticize President Barack Obama's executive action to defer deportations for many of those immigrants, underscores the challenge the issue poses to those in his party seeking the White House in 2016.
"I don't believe that it is a just thing to punish someone who had nothing to do with the breaking of the law," Huckabee said on Tuesday at a book-tour event in Virginia, according to the Washington Examiner. "What I want to do is see, what can we do to put that person in a position where they do abide by the law and become a citizen? I would like that person to become a very generous tax-paying citizen rather than somebody who is going to take taxes away from the rest of us."
In an interview that aired Sunday on NBC's Meet the Press, Huckabee said he stood by his decision as governor of Arkansas to offer in-state tuition to such immigrants.
"I don't know that we've ever been a nation that said if you're in the backseat of your car when your dad is speeding, we're going to charge you in the backseat for what your dad did up in the front seat," Huckabee said.
His continued attack on Obama's action has focused on the president's method. "He didn't have the authority to do it," Huckabee said. "We have a thing called a constitution. And the constitution doesn't allow the chief executive just to make up law."
Huckabee has weighed in positively about a path to citizenship before, calling it "the rational approach" in a 2006 interview with the Washington Post.
"To think that we're going to go lock up 12 million people, or even round them up and drive them to the border and let them go, might make a great political speech, but it's not going to happen," he said.
He's been a bit more circumspect on the issue in recent years, but according to the Examiner, Huckabee was strident on Tuesday.
"If that bothers you to the point that you'd say, 'I'd never vote for you,' then you're never going to vote for me, because that's something on which I will not recant," he said to applause, according to the newspaper.
Before it's here, it's on the Bloomberg Terminal.
LEARN MORE