How Texas Evaluates Mental Illness in Death Row Inmates
As the state prepares to execute Robert Ladd on Thursday evening, here's a look at how they got there, with help from John Steinbeck.
by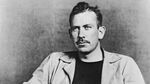 Over protests from human-rights organizations, the state of Texas on Thursday plans to execute mentally disabled man Robert Ladd.
Ladd's IQ is said to be 67, below the rough line the Supreme Court has drawn against cruel and unusual punishment. But the states still have some discretion, and Ladd's execution will proceed unless the Supreme Court grants a stay of execution.
The Lone Star State guidelines that helped lead to this moment were influenced, improbably, by John Steinbeck's 1937 novella Of Mice and Men. Here's how Texas Court of Criminal Appeals Judge Cathy Cochran, who laid out the standards in a 2004 opinion, explains it, as reported by Life of Law in 2013:
Judge Cochran says she was trying to reconcile scientific definitions of intellectual disability with state law. And while she was doing that, she thought of Steinbeck's Lennie [a mentally disabled character who accidentally kills a women near the end of the story].

"Certainly we can all agree that somebody like Lennie from Of Mice and Men is exactly the sort of person that people would say, 'Lennie should not be executed,'" she says.

In her 2004 opinion, Cochran wrote: "Most Texas citizens might agree that Steinbeck's Lennie should, by virtue of his lack of reasoning ability and adaptive skills, be exempt" from execution.

But Cochran went on to write that Texas would also not want to exempt everyone who meets the social services definition of "retardation." She set out seven factors—now referred to as "Briseño Factors"—for lower court judges and prosecutors to consider when they hear death row appeals.

"Things like: Is this someone who's a leader or a follower?" Cochran explains. "Is this someone who can lie effectively and spin a good story and keep things straight? You can't spin a good lie and keep it going if you can't remember things for very long, if you're not coherent, if you can't tell a clear story."
The standards have sparked criticisms for lacking scientific basis, and spurred an unsuccessful appeal in the 2012 execution of Marvin Wilson, a man with an IQ of 61 convicted of killing a police informant.
The ACLU petitioned the Supreme Court on Wednesday to stop Ladd's killing. "Anywhere else in the country, Mr. Ladd's IQ of 67 would have meant a life sentence, not death," said his attorney, Brian Stull, in a statement. "Robert Ladd's fate shouldn't depend on a novella."
Before it's here, it's on the Bloomberg Terminal.
LEARN MORE