House Democrats Need to Be Convinced on Obama's Trade Ambitions
Billy House and Annie Linskey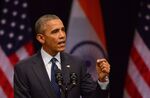 President Barack Obama met with House Democrats in a test of party unity as he seeks to bolster his ability to make trade deals that can conflict with members' pro-middle-class message.
The president spoke to Democrats Thursday night as they sought to regroup at a policy retreat in Philadelphia after losing more than a dozen seats to Republicans in the November election.
Obama's call for fast-track authority to approve trade agreements may conflict with House Democrats' bid to remain relevant in the Republican-dominated Congress and to gain seats in the 2016 election.
Even with their election losses, Democrats need to "stand up straight and be proud" because they fought for health care and middle-class opportunity, Obama told lawmakers.
Democrats need to "go on offense and not be defensive about what we believe in," Obama told the Democrats. "I'm not going out in the last two years sitting on the sidelines."
The president also said he would veto legislation to repeal Obamacare and also would reject any measure that would "compound the problem" on immigration.
Obama took questions from lawmakers on topics including trade during a portion of the meeting that was closed to the news media, according to a person who attended and asked for anonymity.
Helping Workers
Obama told lawmakers that he would make a case for fast-track authority and that he's looking out for the best interests of the same Americans that lawmakers are concerned about, said the person, who wasn't authorized to discuss the meeting publicly.
The president said trade agreements he's negotiating will help U.S. workers and businesses, according to a second person who was present and also asked for anonymity.
Earlier Thursday, House Minority Leader Nancy Pelosi of California told reporters, "I hope to see a path to 'yes,'" over trade. She added: "The burden is on them to demonstrate that this is good for American paychecks."
Part of House Democrats' plan is to be more aggressive in establishing their identity and agenda within the party. Republicans control the House 246-188, with 1 vacancy. Democrats have lost about 66 seats since 2010.
Trade Skepticism
The administration says Obama has earned credibility in six years of pushing policies to help middle-class Americans. He suffered a setback this week, having to drop a proposal that would have ended a tax break for the popular 529 college-savings program after Pelosi and other Democrats protested it would hurt middle-income families.
"It's no secret that there are many Democrats in Congress who are, on principle, skeptical of trade agreements," White House Press Secretary Josh Earnest said during a Jan. 22 briefing. "This is going to require a genuine bipartisan effort to build support for this."
Obama is seeking the ability to negotiate trade agreements that would get a quick up-or-down vote in Congress without amendments. The process was used to pass the North American Free Trade Agreement during President Bill Clinton's administration in 1993.
NAFTA Experience
"You have a lot of Americans who were told that NAFTA was going to work for them personally -- and it didn't," Representative Steve Israel of New York told reporters at the Philadelphia retreat. Opponents of the agreement say it allowed many jobs to be sent overseas and depressed wages in the U.S.
"We're going to have to see specific data and empirical evidence that a trade deal is going to first and foremost increase the pay of middle-class workers," Israel said.
The administration wants to complete a new deal known as the Trans-Pacific Partnership between the U.S. and 11 Pacific Rim countries. Obama is also working on a longer-term agreement with the 28-nation European Union.
On the House floor Wednesday before traveling to Philadelphia, Representative Rosa DeLauro, a Connecticut Democrat, said prior trade agreements are partly to blame for many American workers' low salaries.
"That's why we are organized and taking on a proposal that we know can do nothing but harm them in the future," DeLauro said.
Representative Louise Slaughter, a New York Democrat, said in a statement that after seeing "trade deal after trade deal send millions of U.S. jobs overseas, Congress can no longer give this administration -- or any future one -- the benefit of the doubt."
In addition, Slaughter said many lawmakers are concerned about possible compromises on food safety or that other countries could "sue us over our environmental and food safety standards."
Members of Congress who want details about agreements will have to be patient, Earnest said at a Jan. 22 briefing.
"We don't have a lot of clarity because we're still trying to broker some agreements," he said.
Before it's here, it's on the Bloomberg Terminal.
LEARN MORE