Dan Quayle: When Obama is Playing Golf, 'He's Not Screwing Up the Country'
The former vice president doesn't have a problem with how much time the current president spends on the links.
by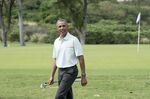 Former Vice President Dan Quayle is one Republican who would love to see President Obama play more golf. 
Interviewed Thursday by the Golf Channel, Quayle said that those who criticize the amount of time Obama spends on the links need to relax.  
"I tell the media, 'Just lighten up,'" said Quayle, who played on the golf team at DePauw University, said. "Just let him go play golf. He obviously enjoys it. I don't know how good he is. He and [Speaker of the House John Boehner] like to play some. They ought to play more, get to know each other a little better. They might be able to cut a deal out there. But I think it's great."
That echoed previous comments Quayle has made about the president and the sport. "I'm glad he's out playing golf. I happen to be a golfer," Quayle told the Fox Business Network in 2011. "I think presidents deserve down time. And believe me, he is in constant communication with what's going on."
But Quayle, a man who came in for his own share of criticism over the amount of time he played golf, and for enjoying a round at an all-white private club in 1990, while serving as George H.W. Bush's vice president, made sure to get at least one partisan dig in at Obama during Thursday's interview. 
"And, quite frankly, when he's playing golf, he's not screwing up the country. So that's a good thing," Quayle added. 
Before it's here, it's on the Bloomberg Terminal.
LEARN MORE