Romney Settles on a Political Brand That Lets Him Be Himself
Unlike his past presidential campaigns, his 2016 brand leaves room for him to be Mormon.
by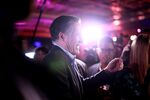 Mitt Romney has been getting a lot of flack for his plan to, as Philip Rucker at the Washington Post wrote Tuesday, "re-brand himself as authentic." Part of that plan involves embracing the fact that he's a practicing Mormon and talking more about his faith, something he struggled with in 2008 and 2012. 
David Graham at the Atlantic recently described Romney's three efforts at branding/running for president as the "Real Conservative Candidate" of 2008, the "Job-Creating, Economic Turnaround Whiz" of 2012, and the "Compassionate Conservative Champion of the Poor" in his possible 2016 run. In 2008, being a conservative meant talking about his faith like an evangelical Christian. In 2012, being a whiz kid meant not focusing on religion at all. But as Romney re-re-brands himself as a "poverty warrior," he plans on using his religious beliefs and works as an example of that compassion. As a result, for the first time in three elections, Romney's Mormon faith might actually help him portray the person he wants America to think he is.
Here's a look back at the evolution Romney has going through concerning how he addresses his faith while running for president. 
The 'common moral heritage' campaign
During a 2007 speech at the George H.W. Bush Presidential Library, Romney discussed America's history of religious tolerance, invoked John F. Kennedy's Catholicism, and stood by the Mormon church while promising not to be its spokesperson. "Let me assure you that no authorities of my church, or of any other church for that matter, will ever exert influence on presidential decisions," he said.
At the time, evangelical Christians were breaking heavily in favor of Arkansas Governor Mike Huckabee. A Washington Post/ABC poll found that 21 percent of Americans said they would be less likely to vote to elect a president who is Mormon, and Romney had just been tripped up during a debate about whether he believed every word of the Bible (he said he did, but Mormons typically believe the Bible contains errors). Romney's goal in the speech at the Bush library was to calm some irrational fears about his religion, but also emphasize "the great moral inheritance we hold in common." 
That effort also ended up ruffling some Mormon feathers. 
"He didn't say 'born-again,' but he might as well have," Jan Shipps, a leading historian of Mormonism looking back on the speech, told the Washington Post in 2011. "That's not the way Mormons talk about Jesus. They call him an 'elder brother.' "
As the New York Times noted in 2007, the strategy worked with some evangelicals, though not with others. The real problem with Romney's brand was the perception that he was a flip-flopper, attempting to reconcile his time as Massachusetts' left-leaning governor with his newfound fierce conservatism. 
The 'focus on the economy' campaign
The 2012 election was all about President Barack Obama's economy, and what the next president would do to fix it. At least, that was the way Romney ran his campaign. "Romney is focusing relentlessly on the economy and is conspicuous in how rarely he talks about God," Rucker wrote at the Washington Post in October 2011, noting that Romney had also stopped responding to attacks on his faith.
In July 2012, Politico reported that some Romney supporters believed the candidate didn't talk about his charity work and donations "because it [would] focus attention on the Church of Jesus Christ of Latter-day Saints, a religion that's rapidly growing but about which misperceptions remain." Romney's tenure as a leader in the church wasn't without controversy, especially on women's issues, but some members of the GOP thought he should embrace it more. 
"His religion isn't the issue—he's the issue," Peggy Young Nance, the president of the Concerned Women for America advocacy group, told Politico in April 2012. "At some point you need to be honest about who you are. He has an authenticity problem. People don't get him. They don't feel that they know the guy."
The central problem in 2012 was that Romney's work at Bain Capital, which Obama continually attacked him on as a sign of his lack of transparency, was also detracting from his economic message. After Obama easily won re-election, Peter Hamby at CNN attributed Romney's loss to a poor network of local contacts, a weak showing with youths and minorities, and the same flip-flop image perception on issues like abortion.
The 'warts and all' campaign
The narrative surrounding what could well be Romney's third attempt to reach the White House is that, unlike past attempts, he won't let advisors tell him how to market himself.  
Rucker noted on Tuesday that several people close to Romney, including his wife, his son Tagg, and his Bain Capital co-founder, wanted him to lean into his faith in 2012, but were told by campaign advisers doing so would distract from his economic push. "Last time, consultants argued it was a referendum campaign and that that was what the campaign's central message should be," Tagg Romney told the Post. 
By embracing what has been a sore spot in past campaigns, Romney will, finally, be marketing himself as the real Mitt. As was the case in his two previous runs, the problem with that strategy is whether a big enough percentage of the country will embrace Romney's embrace of his faith—according to Gallup, the number of people who would not vote to elect a Mormon president remained at 17 percent from 1967 to 2012.
Furthermore, now that Romney has us focussing on about the authenticity of his compassion, he has to lay out what that would mean if he were president. Thanks to "Conservative" Mitt and "Economy" Mitt, that will take more work than it might have in 2008.
Before it's here, it's on the Bloomberg Terminal.
LEARN MORE