Lynch Vows to Tackle Cybercrime, Mend Police-Minority Relations
Del Quentin Wilber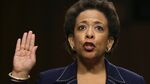 Loretta Lynch said that if confirmed as the next U.S. attorney general she would focus on battling cybercrime and improving relations between police and the communities they serve.
Lynch, the top federal prosecutor in Brooklyn and President Barack Obama's nominee to replace U.S. Attorney General Eric Holder, is scheduled to appear at a confirmation hearing Wednesday before the U.S. Senate Judiciary Committee.
"I intend to expand and enhance our capabilities in order to effectively prevent ever-evolving attacks in cyberspace, expose wrongdoers, and bring perpetrators to justice," said Lynch, 55, according to prepared testimony provided by the Justice Department.
In the excerpts of her remarks, Lynch didn't offer specifics about how she intends to handle the nation's top law enforcement job. Among the priorities she cited, combating cybercrime is already a major focus of the Justice Department, Federal Bureau of Investigation and U.S. Secret Service. Holder and FBI Director James Comey have spoken at length about the threats facing U.S. businesses and consumers from savvy online thieves and spies. In May, the Justice Department took an aggressive step by charging five Chinese military officers with hacking into American companies and stealing trade secrets.
Reducing Tensions
Lynch, who would be the first black woman to serve as attorney general, also didn't offer details about how she might reduce tensions between police and citizens in the wake of unrest sparked by the deaths of two black men last year at the hands of white police officers. The incidents in Ferguson, Missouri, and New York City exposed rifts between minority communities and police.
Beyond pledging a "fair and thorough" investigation into the death of Eric Garner in New York that her office is leading, Lynch hasn't spoken of the protests that followed a grand jury's decision not to indict the officer involved or underlying issues that sparked the outcry.
"Few things have pained me more than the recent reports of tension and division between law enforcement and the communities we serve," Lynch said in her prepared remarks.
"If confirmed as Attorney General," she added, "one of my key priorities would be to work to strengthen the vital relationships between our courageous law enforcement personnel and all the communities we serve."
Tough Questions
Lynch is certain to face tough questions from Republicans who have sparred with Holder and the Obama administration on other issues, including its policies on immigration, clemency for low-level drug offenders and anti-terrorism tactics. Republican senators are expected to press Lynch on how she might run the department differently than Holder, who had a tense relationship with lawmakers from the party.
Judiciary committee Chairman Charles Grassley, an Iowa Republican, has said she should expect a "long day" of questioning.
"Over the last few years, public confidence in the department's ability to do its job without regard to politics has been shaken," Grassley said in prepared remarks to be delivered at the hearing. "I don't expect Ms. Lynch and I will agree on every issue. But I for one need to be persuaded Ms. Lynch will be an independent Attorney General."
In her prepared testimony, Lynch signaled that she would work to improve relations with the Republican-led Congress. By 2012, relations between Holder and Congress became so toxic that the House voted to hold him in contempt for failing to provide it with internal documents concerning a botched gun sting.
'Improved Relationship'
"I look forward to fostering a new and improved relationship with this committee, the United States Senate, and the entire United States Congress –- a relationship based on mutual respect and Constitutional balance," Lynch said. "Ultimately, I know we all share the same goal and commitment: to protect and serve the American people."
Lynch, the daughter of a Baptist preacher and librarian, was a federal prosecutor for nine years before being tapped to be U.S. attorney in 1999. She left the office in 2001 to enter private practice but returned as the top prosecutor in 2010. Her office serves an area of New York that includes Brooklyn, Staten Island, Queens and the rest of Long Island.
As U.S. attorney, Lynch has developed a reputation for being tough on terrorism, cybercrimes and public corruption. She also has a deep knowledge of how the Justice Department works and has worked closely with Holder, serving as co-chair of the Attorney General's Advisory Committee.
Before it's here, it's on the Bloomberg Terminal.
LEARN MORE