Do Mitt Romney's Expensive Things Define Him?
Aside from the infamous car elevator, Romney also has a few multimillion dollar homes, but he also has a long history of charity and frugality.
by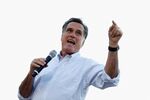 When the Boston Globe reported on Monday that Mitt Romney might be selling his La Jolla, Calif., mansion—the one with the famed car elevator that made him look so out-of-touch in 2012—much of the reaction focused on the home's amenities. Politico talked about its square footage, ocean view, and outdoor shower. CBS noted that the Romneys paid $12 million for the property in 2008 and built a newer, bigger house on it that angered neighbors with its size.
There is no question that Romney, a former Massachusetts governor who is mulling a third run for president, is wealthy. News accounts usually put his net worth around $250 million.
But there is a frugal side to Romney: He plays golf with clubs from Kmart, according to a New York Times profile of him in 2011. The article also described him as driving a station wagon with a "a banged-up front end" well into his success at Bain Capital, the pioneering private equity fund he co-founded, and frowning on first-class air travel.
Whether Romney comes across as a callous member of the one percent or down-to-earth man at heart depends a lot on how one feels about his assets. Here are a few the media have focused on.
The most famous car elevator in the world
While Romney's 11,000-square-foot, beachside home in La Jolla comes with a library, a wraparound porch, and a spa, it perhaps best known for one particular feature: the car elevator. That feature made for an easy target for Democrats trying to portray Romney as out-of-touch with everyday Americans. With that rarified amenity, the home could well fetch $9 million, the Globe reported.  
Multiple lawns and a chandelier made of antlers
The Salt Lake Tribune also reported that Romney's 5,900-square-foot home in Holladay, Utah, contained "multiple lawns and terraces, a fountain, a fire pit and a gazebo." In his nearly 9,000-square-foot slope-side home in Park City, Utah, there is a chandelier made of antlers, and the home's "massive stone fireplace [is] large enough to hold stockings for nearly two dozen grandchildren," according to the Globe. The newspaper says the home is also worth almost $9 million, and he owns a fourth home on Lake Winnipesaukee in New Hampshire.
Dressage horses
Romney's wife, Ann, has taken partial ownership of at least two horses devoted to the sport that is something like the equestrian equivalent of ballet and pastime of the well-heeled. A single horse's bills have run up to $77,000 per year, with the total investment estimated at closer to $500,000. Ann Romney has said she also rides because it provides some relief from the symptoms of her multiple sclerosis.
A Mustang
In 2012, Romney told an audience in his home state of Michigan that he drove one of the iconic muscle cars along with a Chevy pickup. He also said Ann drives "a couple of Cadillacs," which the campaign clarified meant two after some commentators pointed out that average Americans don't usually drive multiple up-market cars. Still, he doesn't seem to have much in the way of imported luxury or vintage cars to put in the elevator in La Jolla, nor does he appear to have a yacht, a plane, or even an art-collecting habit. According to the New York Times profile, he was more apt to spend six week building his own fence.
An institute
To be exact, it's called The George W. Romney Institute at Brigham Young University's Marriott School of Management. Mitt Romney named it after his father, who was CEO of American Motors Corporation, governor of Michigan, and a presidential candidate himself. Mitt said he donated the inheritance he received from his father after the latter's 1995 death to found the institute because he already "had enough" from his work as the head of Bain. The elder Romney had a hardscrabble childhood, and despite his position in the center of American auto industry, he made young Mitt work through high school weekends and survive without a car.
A foundation
The Romneys founded the Tyler Charitable Foundation in 1999 and have given more than $15 million to it, according to Forbes. It, in turn, has given more than $5 million to the Church of Jesus Christ of Latter-day Saints (in addition to the more than $4 million Romney gave personally as a member in just 2010 and 2011), and six-figure checks to organizations from the United Way to the George W. Bush Presidential Library.
Before it's here, it's on the Bloomberg Terminal.
LEARN MORE