DCCC Names Lieutenants in Push to Kickstart 2016 Turnaround
The effort comes as Republicans hold the largest one-party majority in the chamber in 70 years.
by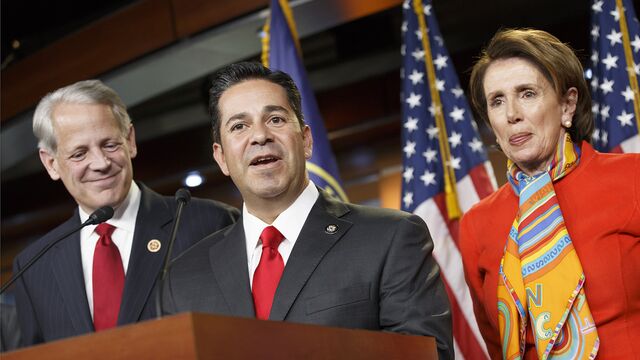 House Minority Leader Nancy Pelosi is turning to long-time, trusted allies to help kickstart her party's effort to rebound in 2016 from last fall's election setbacks.
As Democrats gather later Wednesday for a closed-door strategy retreat in Philadelphia through Friday, newly appointed Democratic Congressional Campaign Committee Chairman Ben Ray Luján says Representative Chris Van Hollen of Maryland and Assistant Democratic Leader Jim Clyburn of South Carolina will serve as his top two lieutenants.
Van Hollen, the current top Democrat on the Budget Committee and himself a former DCCC chairman, will be the committee's national finance chair. Van Hollen is a highly visible figure nationally and is often mentioned by fellow Democrats as a potential successor to Pelosi. His own tenure as DCCC chair was not a glorious one, though, ending after the tea-party wave election of 2010 handed the House majority back to Republicans.
Clyburn, the highest-ranking African American in Congress, will be the DCCC's national voter mobilization chair.
Luján, of New Mexico, was named DCCC chair by Pelosi in November.
The new team takes over the party's political arm after defeats in the Nov. 4 elections saw Democratic House seats go from 201 to 188. Republicans now hold the largest one-party majority in the chamber in 70 years.
Pelosi, reelected as the party's House leader in November, has been insisting to colleagues that 2016 holds brighter election prospects. Much of her optimism centers on the notion that voter turnout among women and minorities will be boosted by a potential presidential candidacy of Hillary Clinton.
Luján said he is committed to more direct House member involvement in the DCCC's efforts this election cycle.
Along with the news that Van Hollen and Clyburn will help him lead the party's political arm, Luján also announced a list of other members who will play roles. He said:
Representatives Don Beyer of Virginia, Richard Neal of Massachusetts, and Terri Sewell of Alabama will as members of the DCCC's "Business Council."
Representative Keith Ellison of Minnesota will serve on a "New Americas Council."
Representative Xavier Becerra of California, Dan Kildee of Michigan, Derek Kilmer of Washington, and Gwen Moore of Wisconsin, will serve on a "Tribal Engagement and Active Members Program" team.
Representatives Bobby Scott of Virginia and Mark Pocan of Wisconsin will serve on the "Labor Council."
Representatives Lois Frankel of Florida and Debbie Dingell of Michigan will be the "Women Lead" co-chairs.
Representative Jared Polis of Colorado will be the LGBT Council.
Representative Adam Smith of Washington will serve on the "Defense Council." And the freshman class liaison will be Representative Ted Lieu of California.
Working with Clyburn in voter-mobilization efforts will be Representatives Cedric Richmond of Louisiana, Lieu, and Michelle Lujan Grishman of New Mexico.
Meanwhile, Representative Steve Israel of New York, the DCCC's chairman over the last two terms, was earlier announced as the head of a newly created Democratic Policy and Communications Committee. The idea is for that unit to help come up with a winning message for the next election.
"Our leadership team's wealth of experience and diversity showcases the best of what Democrats have to offer, and their combined expertise will help lead us to a successful 2016 cycle," said Luján in a statement. "Democrats are already on offense drawing a contrast on middle class economics and building on our state-of-the-art voter outreach, and will continue to fight against Republicans' flawed priorities."
The retreat events starting Wednesday will also feature internal discussions on such hot-button issues as President Barack Obama's request for fast-track trade authority. Many Democrats oppose it, and the president is drawing some Republican support. Democrats also will discuss a proposal to term-limit members' roles in the party's top seats on congressional committees.
CORRECTION: An earlier version of this story misstated the month when Nancy Pelosi was reelected as House minority leader.
Before it's here, it's on the Bloomberg Terminal.
LEARN MORE