Ben Carson on His Old, Less Conservative Views: 'Things Change'
The Ben Carson movement is willing to forgive its hero plenty.
by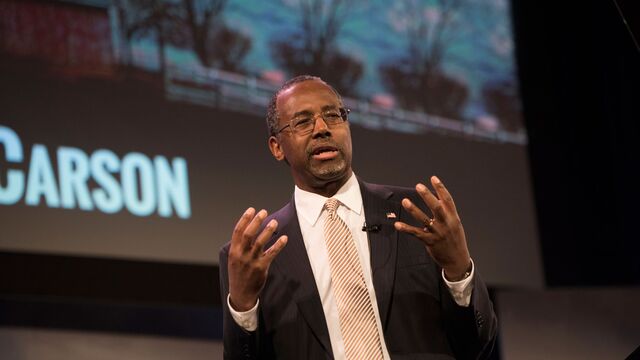 The surge of "credible" Republican presidential candidates has robbed Ben Carson of some headlines. That's a temporary situation; at least one national magazine and national newspaper sent reporters to the Iowa Freedom Summit to build out major profiles of Carson, an icon of recent black history who's still transitioning into political life. And the low profile might be good for Carson, who's been called out for some past diversions from conservative dogma—and received no blowback from his growing grassroots base.
One example: His health-care views. On Jan. 22, the archive-raiders at BuzzFeed found a 1996 Carson paper that argued for universal catastrophic health care and other redistributive programs built from the existing welfare state. Over the weekend, after his speech in Iowa, Carson just waved off the paper.
"That paper bears about as much resemblance to my current views as my views on Afghanistan from 20 years ago," Carson said when I asked. "Things change."
When pressed on what had changed—the Affordable Care Act, for example—Carson would say only that "a lot of things have changed. The main thing that shows you is that this is not something that's new to me. Thinking about health-care policy and finding better ways about health care. Obviously, anybody who's a thinking person and looking at things as they evolve will also evolve in his views."
A few days later, there's been no fallout whatsoever. Carson's Iowa organization, built by fans and inspired by a few of Carson's book tour visits, is stronger than most candidates arriving in the state after winning elective office.
The difficulty of boxing out Carson is even clearer in Tim Murphy's rundown of his "liberal views," as presented in his best-sellers. In 2012, Carson's view of immigration was humane, liberal: "Is it moral for us, for example, to take advantage of cheap labor from illegal immigrants while denying them citizenship?" Three years later, at the Iowa Freedom Summit, Carson ripped into the Obama administration's executive orders on immigration and asked why immigrants were getting "work permits" instead of "criminal activity" on their records. And that was all the base needed to hear; at the Facebook page of Run Ben Run, the major draft group, hundreds of fans were sharing a meme of Carson promising to close the border.
Before it's here, it's on the Bloomberg Terminal.
LEARN MORE