Where Are They Now? Failed 2014 Candidate Edition
Matt Bevin, Alison Lundergan Grimes, and Chris McDaniel all offer clues about their futures.
by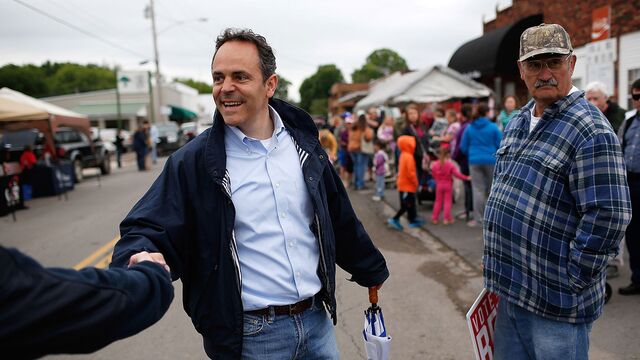 The also-rans of 2014 are plotting their steps in 2015.
On Tuesday, Kentucky businessman Matt Bevin plans to file paperwork in the state capital for a "run for statewide office," he said in a post on his Facebook page. It's been just eight months since the Tea Party candidate failed to wrest the Republican Senate nomination from incumbent Mitch McConnell, who went on to become majority leader.
Bevin hasn't said which office he'll seek, but a few supporters have already weighed in enthusiastically.
"So excited! You have my support," wrote one Facebook user identified as Dawn Henry Birckicht. "Please let it be governor!" wrote another, Melanie Woolston Presta.
If Bevin does run for governor, he will not be going head-to-head with Democrat Alison Lundergan Grimes, McConnell's general-election challenger who lost by 15 points. The Kentucky secretary of state had been teasing a campaign announcement in recent days, fueling speculation that she would run for the state's highest office, but she instead declared she would for run for re-election to her current post.
Kentucky is one of three states set to have gubernatorial elections in this odd-numbered year. The others are Louisiana and Mississippi, where state Senator Chris McDaniel has been making moves. You may recall McDaniel from his bitter primary loss to Republican Senator Thad Cochran last year, during which he alleged Cochran improperly used Democratic votes to win a runoff.
In an announcement to Breitbart.com on Jan. 23, McDaniel said he was launching a political action committee that would concentrate on "electing conservatives and holding Republicans accountable while messaging conservatism in a way that secures conservatives get a chance to be elected even over some of those in the establishment."
McDaniel could parlay the moves into his own campaign, although Breitbart reported that he "isn't commenting" on that possibility so far. 
The Associated Press has reported that his anti-establishment bent "might provide momentum for McDaniel and his allies leading into 2015, when Mississippi elects a slate of statewide officials, from governor to agriculture commissioner." Republican Governor Phil Bryant is seeking reelection, and GOP state senator Michael Watson has been mentioned as another possible contender.
Before it's here, it's on the Bloomberg Terminal.
LEARN MORE