Scott Walker Places One Foot in the Presidential Ring
The Wisconsin governor has started a 527 group that can help raise money for his anticipated White House run.
by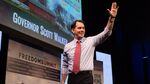 Add one more serious contender to the jam-packed Republican race for the White House. On Tuesday, Wisconsin Governor Scott Walker announced the formation of a new committee to explore his presidential options.
Dubbed "Our American Revival," the new 527, tax-exempt group will also include a website that will launch on Tuesday, the Washington Post first reported, to help Walker raise the millions of dollars required to travel the country and stump for votes. 
"Our American Revival encompasses the shared values that make our country great; limiting the powers of the federal government to those defined in the Constitution while creating a leaner, more efficient, more effective and more accountable government to the American people," Walker said in a statement released Wednesday. 
The announcement of the new group is the latest clue as to whether Walker would seek his party's nomination, and comes just days after the governor delivered what was, by many, considered to be a standout speech at the Iowa. 
Former Florida Governor Jeb Bush has already formed his own 527 group and New Jersey Governor Chris Christie has started a PAC, as the race to land major donors ramps up. 
"To move this country forward we need new, fresh leadership from outside Washington," Walker said in his press release.  "We need leaders who are bold.  That's how we build a better future for our children and grandchildren.  We've done it in Wisconsin and it can be done across this country with the right leadership."
Rick Wiley, a former political director with the Republican National Committee political director, has been named the executive director of Our American Revival.
Before it's here, it's on the Bloomberg Terminal.
LEARN MORE