Perry Loses Bid to Toss Ethics Charges on Constitutional Grounds
Margaret Cronin Fisk and Laurel Calkins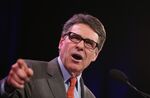 Rick Perry failed to persuade a Texas judge to throw out an ethics violation case on claims the state constitution protects a governor's right to say whatever he wants about his official powers.
Perry, a potential candidate for the 2016 Republican U.S. presidential nomination, may have to face a trial on two counts of abusing his authority. Perry allegedly threatened to veto funding for an ethics task force if the county prosecutor running it didn't resign following a drunken-driving conviction.
Texas state court Judge Bert Richardson, a Republican appointed to oversee the former governor's case, denied on Tuesday Perry's bid to dismiss one of the counts and, while he agreed that the second count was flawed, said the state may file an amended indictment "to cure any such defect." He rejected Perry's request to dismiss the count.
Richardson also said Perry can't challenge the constitutionality of the law he's charged under until after he's tried. State law doesn't allow a judge to make a pretrial decision on the constitutionality of a criminal statute as it applies "to a particular defendant," Richardson said.
Perry immediately filed a notice of appeal after the decision.
Left Office
"Continued prosecution of Governor Perry is an outrage and sets a dangerous precedent," Tony Buzbee, Perry's attorney, said in an e-mailed statement. "America's commitment to the Constitution and the rule of law is at stake in this case, which is why we will immediately appeal."
"All of Perry's attacks on the constitutionality of the statutes have been rejected, at least the ones that can be heard at this stage," Michael McCrum, the state's special prosecutor, said in a telephone interview. "It means the case is still going."
Perry, 64, left office this month. Texas's longest-serving governor is charged with two counts of abusing his authority for threatening to veto funding for the ethics task force.
Perry is alleged to have wanted to remove Travis County District Attorney Rosemary Lehmberg, a Democrat, and slash funding for the task force under her control because it was probing a cancer-research funding program that benefited some of his political donors. He denies the claim.
Perry has said he acted within his rights as governor to veto any funding for any reason. He also maintains the state constitution protects a governor's conversations about legislative activities from prosecution.
Political Ploy
Perry's lawyers have said from the start that the indictment was a political ploy to interfere with his presidential aspirations. The first bid for his party's nomination flamed out after a televised debate in 2012, when he forgot the name of the third federal agency he said he would eliminate if elected.
Perry has squeezed in court appearances between multiple campaign trips to Iowa and New Hampshire, which host the earliest presidential primary contests, as well as speaking tours to Europe and Japan.
A bipartisan group of constitutional lawyers urged Richardson to throw out the indictment as an attempt to criminalize both the governor's use of his veto power and his ability to talk about it -- "two ordinary political acts," according to a friend-of-the-court by attorneys Alan Dershowitz, Ted Olson and Kenneth Starr.
Procedural Errors
In November, Richardson rejected Perry's request to dismiss his indictment because of procedural irregularities with McCrum's paperwork. The judge ruled the errors weren't significant enough to undermine the special prosecutor's authority to investigate Perry.
Buzbee, Perry's lawyer, said the governor wasn't trying to use legal technicalities to skirt the law. Perry relied on the law to try to dismiss an improper indictment so he can "get on about his business," Buzbee said.
"No one suggested the governor can do anything he wants," Buzbee said in a telephone interview last year. "But for more than 75 years, the law clearly states that when a governor exercises his veto, he's acting in a legislative capacity and his statements are protected."
The case is Texas v. Perry, D1DC14-100139, 390th Judicial District Court of Travis County, Texas (Austin).
Before it's here, it's on the Bloomberg Terminal.
LEARN MORE